Malta's Labour party will select new PM as Muscat quits over journalist murder
Malta's Labour Party headed to the polls on Saturday to elect the country's new Prime Minister after Joseph Muscat announced his resignation amidst widespread anger over his handling of the murder of a Maltese investigative journalist.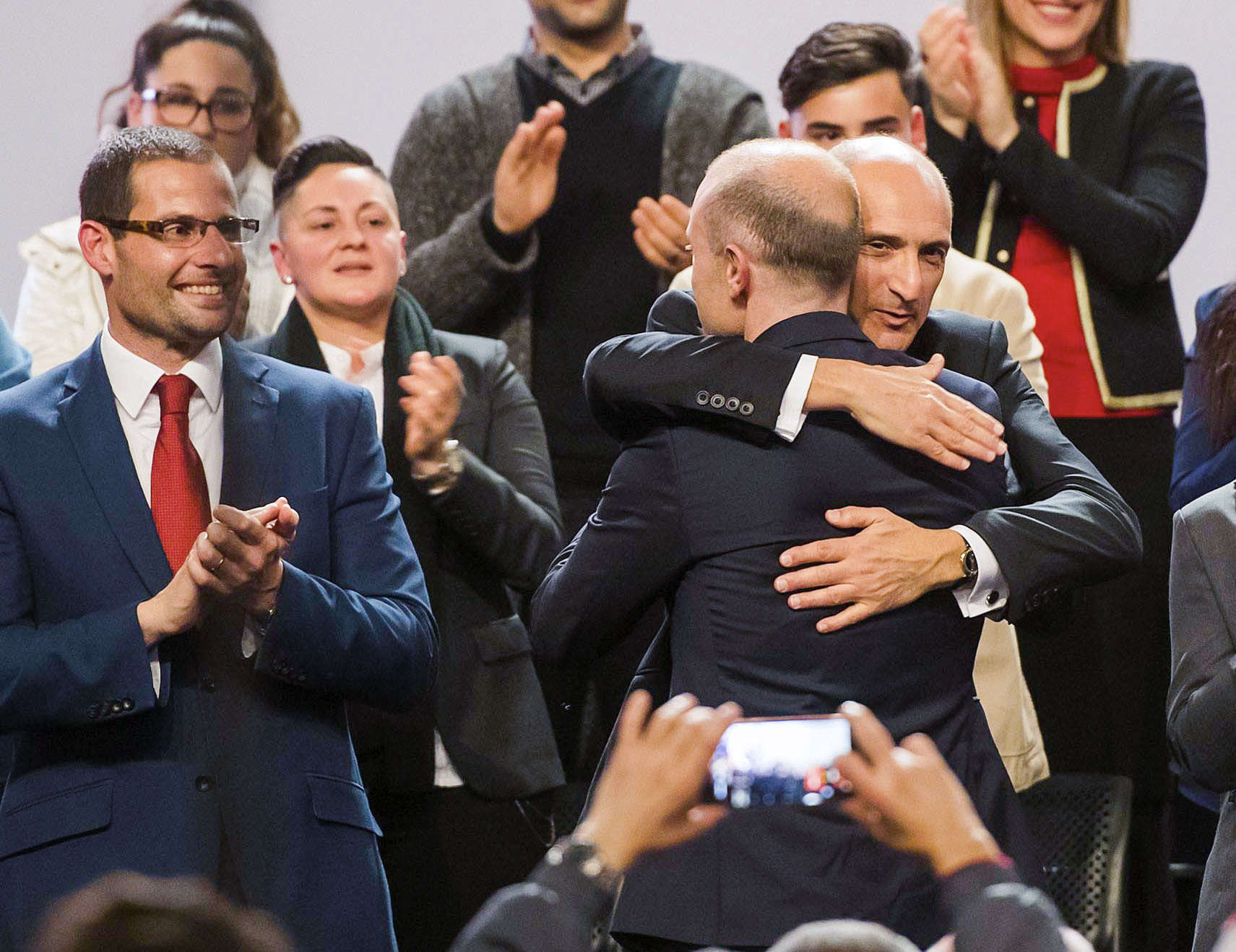 Maltese Prime Minister and Labour Party leader Joseph Muscat, back to camera, hugs leadership candidate Chris Fearne, as his rival Robert Abela, left, looks on. (Photo: AP)
Muscat announced that he would step down in December after allegations that he had tried to protect his allies from an investigation into the 2017 killing of the journalist Daphne Caruana Galizia forced him from office.
Some 17,500 Labour party members are thought to be voting to install the new prime minister, with two candidates facing off for the role: the 56-year-old deputy prime minister Chris Fearne, and 42-year-old lawyer Robert Abela.
Fearne is favorite to win the competition, despite support for Abela growing over the last week of the campaign, according to the Times of Malta.
Neither of the politicians have made the Caruana Galizia murder a central part of their campaign, focusing instead on the issue of maintaining Malta's booming economy, which grew by 6.6 percent in 2018.
During Muscat's farewell address on Friday, he said he was "sorry" that the murder had taken place, apologizing for the subsequent investigation of which he was accused of hindering.
"I paid the highest price for this case to be solved under my watch," he said.
The opposition Nationalist Party described Muscat's speech as "surreal", saying that it was in fact Caruana Galizia who had paid the price.
The election and Muscat's resignation follows weeks of protests over allegations that the Maltese leader protected his childhood friend and chief of staff Keith Schembri after the politician became embroiled in the murder investigation.
The victim Caruana Galizia was hailed as Malta's "one woman WikiLeaks" for exposing corruption on the Mediterranean island. She was killed by a car bomb near her home on October 16, 2017.
Three people are currently on trial for allegedly setting off the explosive device, alongside prominent Maltese businessman Yorgen Fenech, who was charged as an accomplice in the murder after he was detained while trying to leave the island on his yacht.
His arrest in November led to the resignation of Maltese tourism minister Konrad Mizzi and Schembri, sparking the downfall of Muscat's premiership.