Singapore reports 1,426 COVID-19 cases, raising total to 8,014
People's Daily app
1587368371000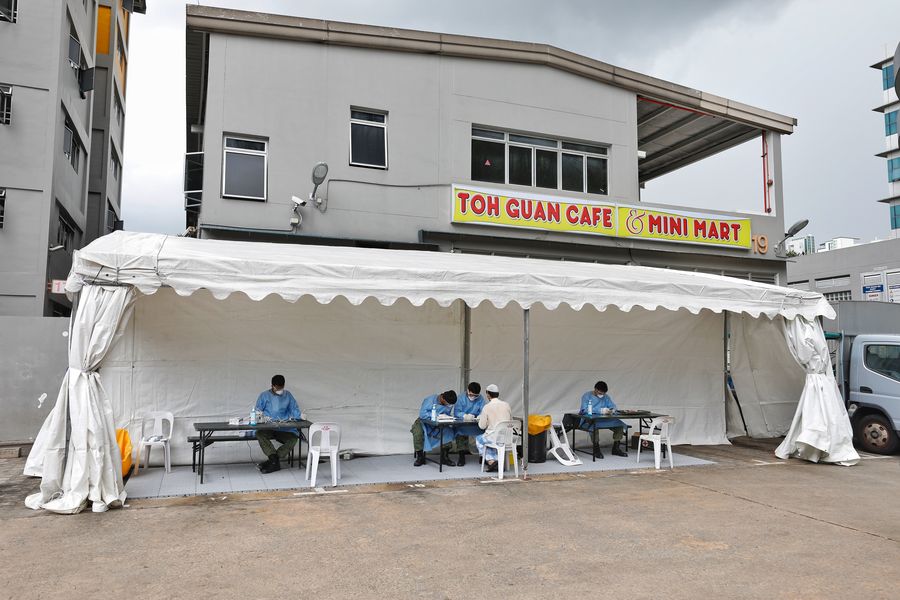 Photo taken on April 8, 2020 shows a temporary tent for medical check for foreign workers near the Toh Guan Dormitory in Singapore. (Ministry of Manpower Singapore/Handout via Xinhua)
Bangkok (People's Daily) - Singapore reported 1,426 new coronavirus cases on Monday, marking the biggest daily increase since the outbreak began in the country in January, said its Ministry of Health.
The total number of infections has risen to 8,014. Most of the new cases were linked to clusters at foreign worker dormitories.
768 patients have recovered from the infection. Twenty-two patients are in critical condition, and 11 have died.
Cases have surged since authorities started carrying out widespread testing of foreign workers living in crowded dormitory complexes, many of whom are construction workers from South Asia.
Around 200,000 workers live in dorms and typically toil for long hours earning in the region of $400 to $500 a month building the city-state's glittering skyscrapers and shopping malls.
Following criticism of poor living conditions in the dorms, the government moved thousands of workers to other sites -- including apartments and floating accommodation usually used in offshore industries -- to try to lessen the chances of infection.
Several dormitories with serious outbreaks have been quarantined, with workers not allowed to leave the premises for two weeks. The government is providing meals, and cleaning services have been ramped up.
Prime Minister Lee Hsien Loong at the weekend warned that the number of foreign workers found to have contracted COVID-19, the disease caused by the virus, is likely to rise further as more are tested.
"Fortunately, the vast majority of the cases are mild because the workers are young," Lee wrote on Facebook.
While the government is working to stop transmission in the dorms "it will take some time to show results, so we must expect to see more dorm cases for while longer", he said.
The city-state this month introduced tough restrictions aimed at halting the spread of the virus, including closing schools and advising people to stay at home.
Since then, the number of new infections reported among Singaporeans has slowed -- only 16 of the cases reported Monday were citizens or people holding permanent residency status.