Britain records hottest July day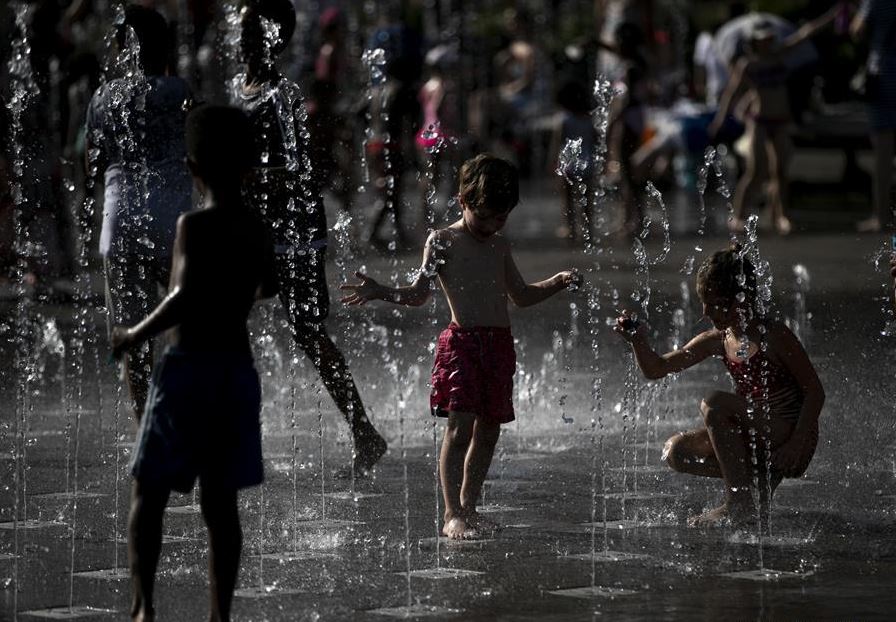 Children play on a square fountain in London, Britain, on June 29, 2019. (Photo: Xinhua)

LONDON, July 25 (Xinhua) -- Temperature hits 38.1 degrees Celsius in southern England on Thursday, setting a new record for the hottest July in the country, said Met Office, the national weather service body.
According to the weather forcast office, the new record was set in Cambridge at 15:37 p.m., higher than the previous record of 36.7 degrees Celsius in 2015.
Meanwhile, the heatwave occurred not only in Britain, but also in large parts of central and western Europe, said the Met Office.
"Including Belgium, Germany and the Netherlands have seen their highest ever temperatures this week, as a historic heatwave sees temperatures climb into the low to mid 40s Celsius," it added.
In addition, Met Office warned that the heat may spark thunderstorms, issuing a yellow national severe weather warningcovering majority of the country.
Steve Willington, Chief Meteorologist at Met Office, said: "we're already seeing thunderstorms being triggered by today's hot weather and we'll continue to see thunderstorms breaking out this evening and overnight across wide areas of the UK."
"Also tonight it's going to be very warm across central, eastern and southeastern parts in particular as temperatures falling no lower than 23 to 24 Celsius in places, which could see further temperature records broken," Willington said.
Met Office showed that the highest overnight temperature on record in Britain was 23.9 degrees Celsius set in August 1990.
Owen Landeg, Principal Environmental Public Health Scientist at Public Health England, said: "for some people, such as older people, those with underlying health conditions and young children, the summer heat can bring real health risks."
"That's why we're urging everyone to keep an eye on those you know who may be at risk this summer," Landeg said.
Met Office noted that heat temperatures were expected to return closer to normal after Thursday's peak.