China slams EU agency for 'selective blindness' over its position on Ukraine crisis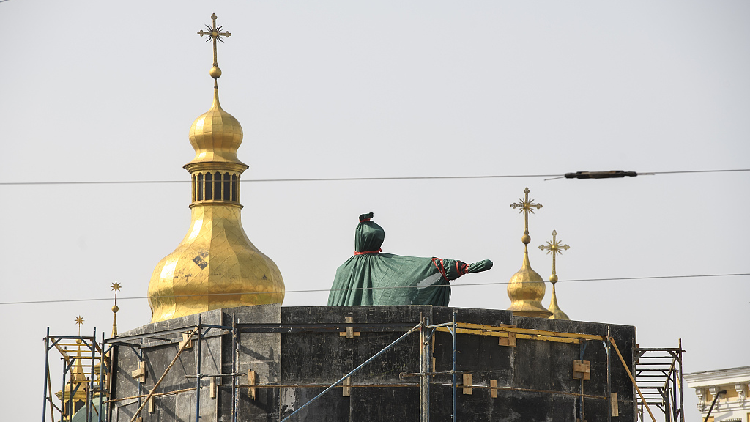 China on Monday expressed "strong disapproval" of claims by the EU's anti-disinformation agency that it says deliberately distort its position on the Ukraine crisis.
A spokesperson for the Chinese Mission to the EU said that China's position on the Ukraine issue has been consistent and clear, as well as objective and impartial, adding that since the outbreak of the Ukraine crisis, China has been committed to promoting peace talks and making active efforts for de-escalation.
"China always stands for peace and draws its conclusion independently based on the merits of each matter," the unnamed spokesperson said in a statement. "China calls for upholding international law and universally recognized norms governing international relations, acts in accordance with the purposes and principles of the UN Charter, and advocates the vision of common, comprehensive, cooperative and sustainable security."
The spokesperson made the remarks in response to a media query regarding a report published by EUvsDisinfo, which claimed that China's stated neutrality on the Ukraine issue does not mean the country is actually neutral and that state-controlled media borrowed conspiracy narratives from Russia and blamed NATO and the U.S. for the conflict.
The spokesperson said that during Chinese president Xi Jinping's recent video conference with President Charles Michel of the European Council and President Ursula von der Leyen of the European Commission, Xi explained comprehensively China's position on the Ukraine issue and laid out a four-point proposal on how to resolve the Ukraine issue under current circumstances.
State Councilor and Foreign Minister Wang Yi on Monday had a phone call with Ukrainian Foreign Minister Dmytro Kuleba, who expressed appreciation for China's humanitarian assistance and said that Ukraine attaches great importance to China's international influence and prestige, wishes to maintain communication with China and hopes that China continues to play an important role in achieving a ceasefire in his country, the spokesperson added.
The spokesperson also reminded people concerned "not to turn a blind eye selectively."
"In the past decades, who has been spreading disinformation to wage war in violation of the sovereignty and territorial integrity of other countries? Who has been expanding its geographical scope and range of operations that have disrupted regional stability? Who has provoked conflicts that have caused large humanitarian disasters?" the spokesperson asked.
The spokesperson added that the use of double standards will not deceive the world, and the outdated alliances from the Cold War era in no way represent fairness and justice.