The latest: COVID-19 outbreak worldwide (Updated October 10)
People's Daily app
1602332000000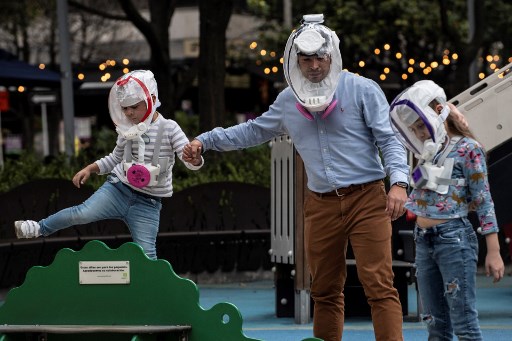 A man and his children wear ventilation masks against the spread of the COVID-19 coronavirus pandemic at a park in Bogota on October 9, 2020. (File photo: AP)
The total number of deaths from the COVID-19 pandemic worldwide has increased to 1,068,995 with the global confirmed cases reaching 36,933,166 as of 8:00 pm BJT on Saturday according to a tally by Johns Hopkins University.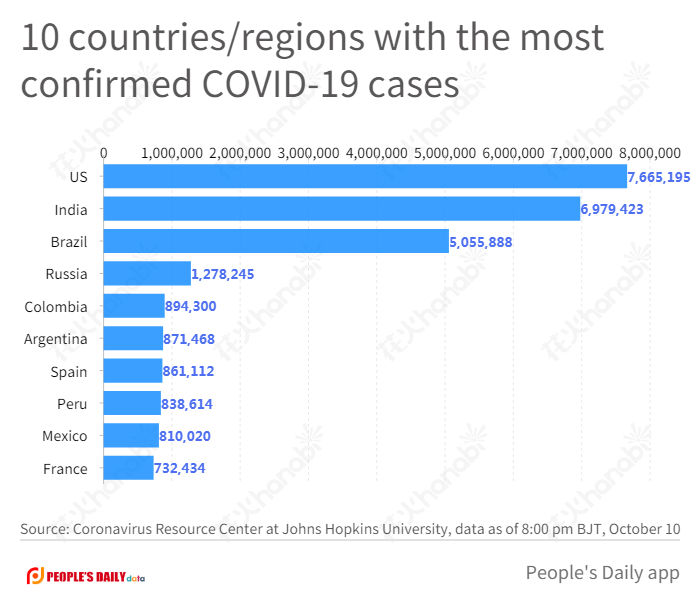 Current status (data as of 8:00 pm BJT, October 10):
Britain's gross domestic product (GDP) recorded the fourth consecutive monthly rise in August 2020, but remained far below the pre-pandemic levels, the British Office for National Statistics (ONS) said on Oct. 9.
US President Donald Trump has approved a revised COVID-19 relief package in the negotiations with congressional Democrats, White House's National Economic Council Director Larry Kudlow said Friday.
The Brazilian city of Sao Paulo, the largest city in South America, will allow cinemas, theaters, museums, and other cultural spaces to reopen starting on Saturday, as cases of the novel coronavirus (COVID-19) as well as hospital occupancy have declined, authorities announced on Friday.
Jordan imposed a 48-hour curfew across the country as of Thursday midnight amid a surge in coronavirus cases.
India's COVID-19 tally continues to rise and is close to 7 million, as 73,272 new cases in the past 24 hours took it to 6,979,423 on Saturday, said the latest data released by the federal health ministry.