The latest: COVID-19 outbreak worldwide (Updated March 28)
People's Daily app
1585361506000
The global death toll from COVID-19 increased by 2,501 to 23,335 in the past 24 hours as of 10:00 CET on Friday, according to the daily situation report released by the World Health Organization (WHO).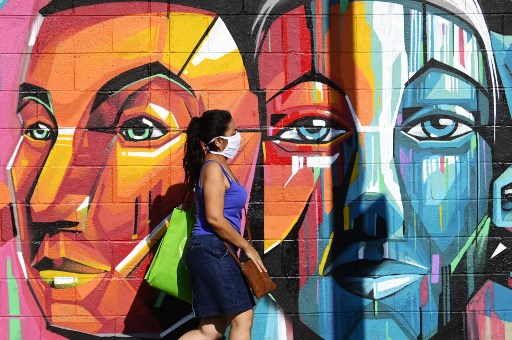 Photo: AFP
The report showed a total of 509,164 confirmed cases of COVID-19 were reported as of Friday, an increase of 46,484 infections compared to the previous day.

Current status (data as of 10:00 am BJT, March 28):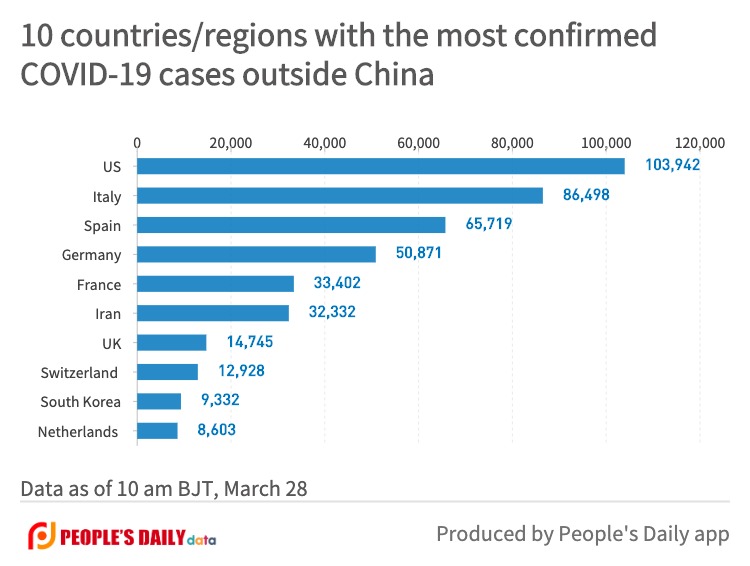 Sources: People's Daily, Xinhua, BBC, Johns Hopkins University, national public health agencies.
The United States now has more than 100,000 confirmed cases of the new coronavirus. There have been 103,942 cases as of 8:30 am BJT on Saturday, according to a tracker maintained by Johns Hopkins University.
The cumulative number of coronavirus cases in Italy reached 86,498 on Friday. The pandemic also claimed 969 lives, a new single-day record high in fatalities registered here since the outbreak, bringing he death toll to 9,134.
Spain's health ministry figures showed the number of deaths reaching 4,858, while cases jumped to 65,719.
Confirmed cases of COVID-19 in Germany increased to 50,871 with over 300 deaths on Friday.
The other worst-hit countries are Iran with 2,378 fatalities and 32,332 cases, and France with 1,995 deaths and 33,402 cases.
As of 0000 GMT on Saturday, a total of 14,745 people in the UK were confirmed positive for the virus, said the Department of Health and Social Care. 759 patients have died as of 5 pm (1700GMT) on Thursday.
There have been 12,928 confirmed COVID-19 casesin Switzerland as of Friday.
South Korea reported a total of 9,332 national infections of COVID-19 and 139 deaths on Friday.
The Netherlands has itself recorded 546 deaths and 8,603 cases in total as of Friday, according to the National Institute of Public Health and the Environment.