Italian environmental group calls for national adaptation plan in face of climate change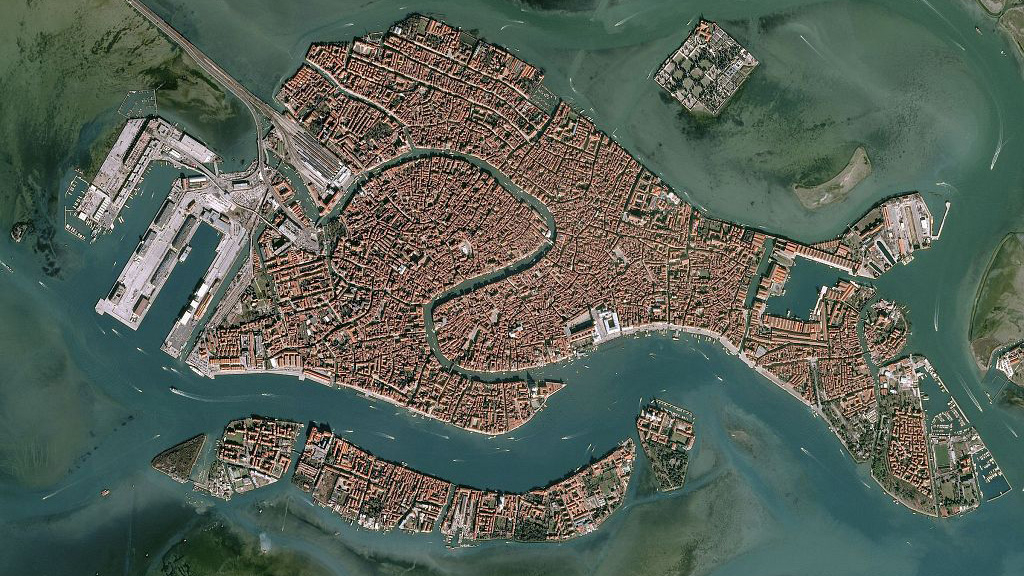 This handout satellite image courtesy of Cnes 2019 released on November 18, 2019 by Airbus DS shows a view of Venice on February 13, 2019. (Photo: VCG)
Italian cities are on the frontline of climate change, and suffering from its impact already, exposing the need for a national climate adaptation plan, a report said on Tuesday.
Titled "Climate has already changed", the report was provided by Legambiente -- Italy's largest environmental group -- and discussed among experts and officials at a conference.
It was based on data from a variety of public research institutes and universities, and on the mapping of severe weather events, providing a fresh picture of how Italian cities were hit by climate change effects.
These included damages caused by flooding, storms, tornadoes, rivers' overflowing, and by prolonged drought and heat waves.
Urban environment at highest risk
Cities are considered as "the environment most at risk in terms of consequences of climate change," the report said.
This is not only because they hosted most of the country's population, but also because severe weather events "have increased in proportion, and are expected to become even more frequent, and the same goes for the damages they can bring about," it explained.
The cities considered most at risk were Rome and Milan (the country's two largest), then Turin and Genoa in the north, and Naples, Catania, Palermo, Bari, and Reggio Calabria in the south. These nine cities registered 136 climate-related disruptive events between 2010 and 2019.
This figure was updated in early November, and did not include the most recent emergency and flooding in Venice and other areas across the country since last week.
Among the recommendations from Legambiente was a proposal for the central government to pass a law to stop any more burying of urban rivers as well as any more construction in areas with highest hydrogeological risk.
At the same time, the report put cities in a positive light, considering them as most prominent actors in any strategy against climate change.
"It is from cities -- and especially metropolitan areas -- that we must start again, adopting a new planning approach able to ensure both risk reduction and climate change adaptation," said Legambiente's scientific coordinator Andrea Minutolo.
Need for planning
The report also highlighted that Italy was the only major country in Europe still lacking a national plan for climate change adaptation. This would hamper the implementation of comprehensive policies based on the vast amount of data available today and focused on cities, according to Legambiente.
Experts noted Italian authorities have implemented a series of measures on this point. Yet, the national adaptation strategy to climate change that the country adopted in 2014 has not been actualized in a broad plan yet.
Italy's Undersecretary of State for the Environment Ministry, Roberto Morassut, told the conference that the government was aware of this, and had it as one of its priorities. He told Xinhua that the authorities are working to have a national adaptation plan by end of legislature (2023).
The official confirmed the second cabinet led by Prime Minister Giuseppe Conte was committed to the goal, and already started implementing or proposing to parliament a series of "preparatory provisions."
"All the legislative and parliamentary passages we are going through are meant to allow the adaptation plan to take form at the earliest possible time," Morassut said.