Philippines further raises alert level for Taal volcano, hazardous eruption 'imminent'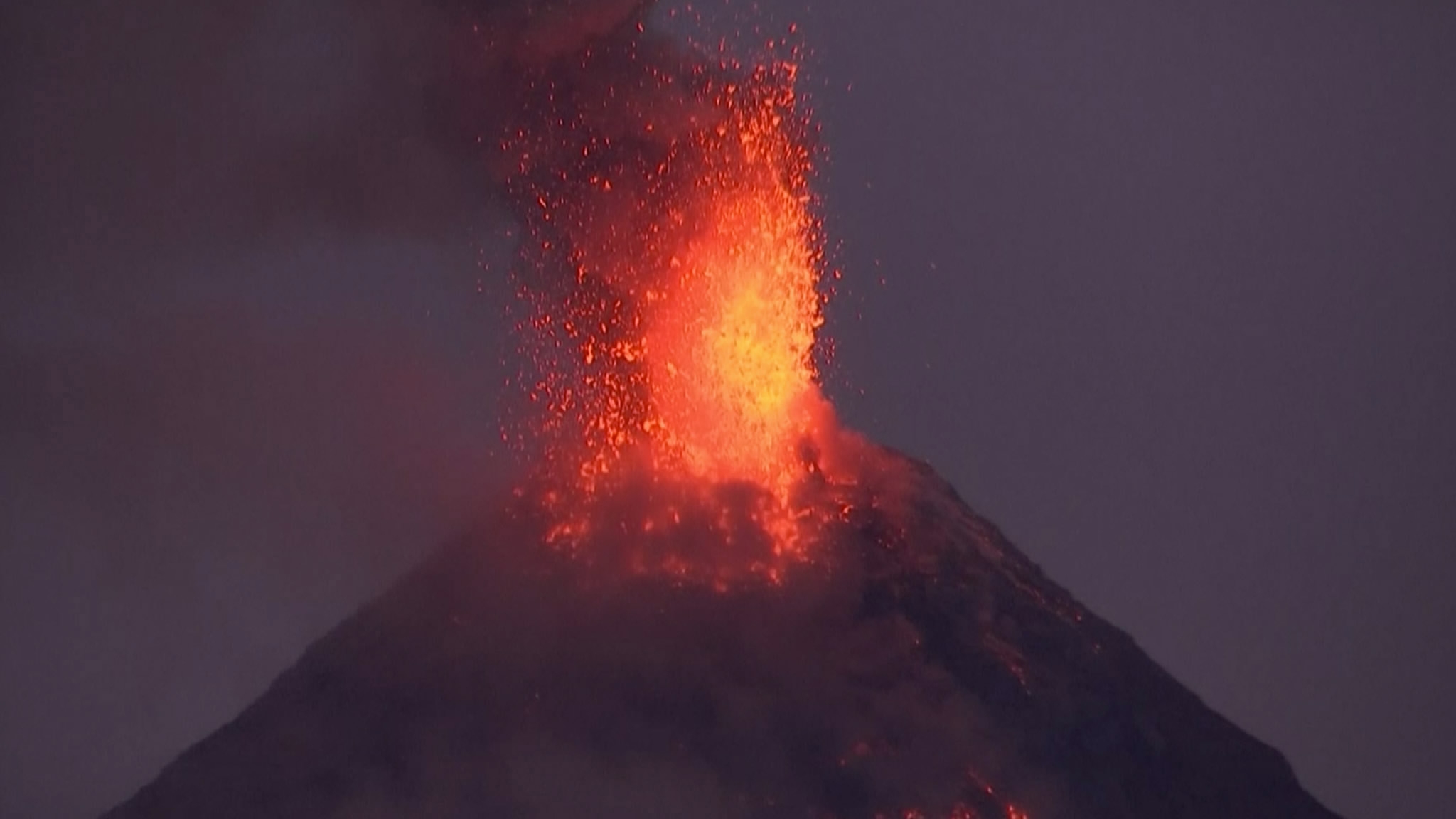 File photo: CGTN
MANILA, Jan. 12 (Xinhua) -- The Philippines raised the alert level to 4 on a scale of 5 over the Taal volcano eruption on Sunday, saying that "hazardous explosive eruption is possible within hours to days" as volcanic activity increased.
In a bullet released at 7:30 p.m. local time (1130 GMT), the Philippine Institute of Volcanology and Seismology (Phivolcs) said "eruptive activity" at Taal volcano's main crater "intensified" as of 5:30 p.m. local time (0930 GMT) "as continuous eruption generated ash plumes of up to 15 kilometers" into the sky.
The institute said the volcano belched "a steam-laden tephra column" or ashes with rock fragments. Moreover, it said "frequent volcanic lightning that rained wet ash on the general north as far as Quezon City" in Metro Manila.
The institute urged the thousands of residents on the island and around the volcano to evacuate.\
Taal volcano is located inside a lake that is itself a collapsed pre-historic volcano. It is the world's smallest active volcano, located on Volcano Island in Taal Lake in Talisay town in Batangas province, approximately 90 km south of Manila.
Taal Volcano is the second most active volcano in the Philippines.
"Phivolcs strongly reiterates total evacuation of Taal Volcano island and additional evacuation of areas at high risk to pyroclastic density currents and volcanic tsunami within a 14-kilometer radius from Taal Volcano's main crater," Phivolcs Director Renato Solidum told a news conference.
"Civil aviation authorities must advise aircraft to avoid the airspace around Taal volcano as airborne ash and ballistic fragments from the eruption column pose hazards to aircraft," he added.
Taal volcano rumbled back to life on Sunday morning, spewing initially a column of ash one kilometer into the sky in phreatic eruption.
The Manila International Airport Authorities (MIAA) announced that flights to and from Manila's Ninoy Aquino International Airport have been put on hold starting Sunday night, following the eruption of the volcano.
In an advisory, the MIAA said that all flights, both arrival and departures, have been put on hold.
Mark Timbal, spokesman for the National Risk Reduction and Management Council, said up to 10,000 residents of three towns around the volcano will be evacuated.
Timbal said that towns and provinces south of Manila and some parts of Metro Manila are experiencing ash fall.
Since March 28, 2019, the Phivolcs said Taal volcano's seismic network has manifested moderate to high level of seismic activity.