Reception held in Hanoi to celebrate 70th anniversary of China-Vietnam diplomatic ties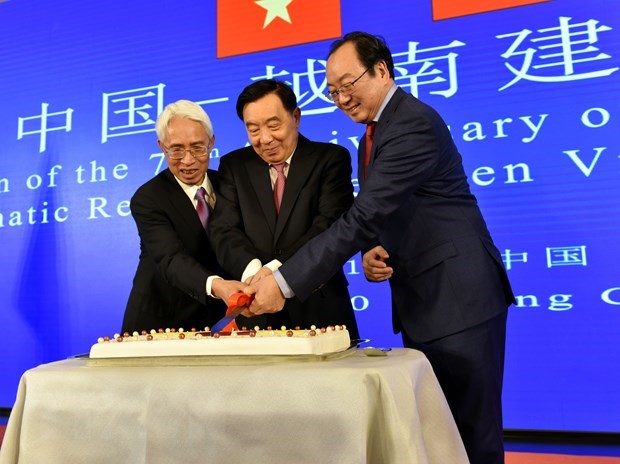 Photo: The Chinese Embassy in Hanoi
HANOI, Jan. 16 (Xinhua) -- The Chinese Embassy in Hanoi held a reception to celebrate the 70th anniversary of China-Vietnam diplomatic ties on Wednesday.
Truong Hoa Binh, a politburo member of the Communist Party of Vietnam (CPV) Central Committee and deputy prime minister, and representatives from CPV, Vietnamese government, military and other sectors attended the reception.
Addressing the reception, Chinese Ambassador to Vietnam Xiong Bo said the China-Vietnam relations have been growing mature over the past 70 years, despite wind and rain.
Xiong said China and Vietnam are friendly neighbors "connected by mountains and rivers, as close as lips and teeth."
Stressing that the China-Vietnam relationship is at a "new historical start," Xiong underlined the importance of staying committed to the traditional friendship, increasing political mutual trust, deepening mutually beneficial cooperation and properly managing disputes.
With efforts of both sides, the China-Vietnam relations are expected to bring more tangible benefits to the two peoples and make greater contributions to world peace, stability and human progress, he said.
Speaking at the reception, Binh said the friendship fostered by the older generations of two countries' leaders has become a precious treasure shared by the two countries.
He said the Vietnamese side sincerely hopes to work with the Chinese side to promote the steady, sound and sustained development of the comprehensive strategic cooperative partnership between the two countries.
Based on the achievements of bilateral relations, the Vietnamese side believes the two countries will continue to consolidate and deepen their comprehensive strategic cooperative partnership, promote exchanges and cooperation in different fields, realize the common aspirations of the two countries and peoples, and make contribution to peace, stability and development of the region and the world, Binh said.
More than 400 people from both countries attended the reception.