Libyan UN-backed government announces downing of east-based army's jet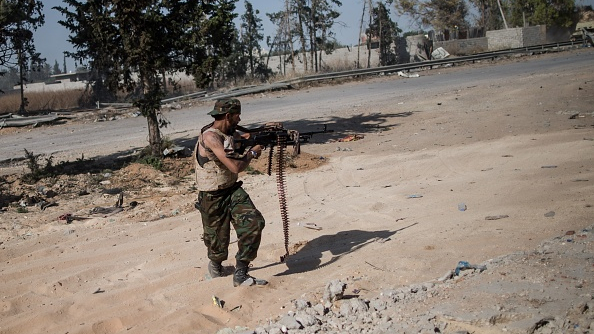 Libyan National Accord Government troops clash military commander Khalifa Haftar's troops on course of the airport in Al Sawani region of Tripoli, Libya. (Photo: CGTN)
The forces of Libya's UN-backed government announced that they shot down a fighter jet belonging to the east-based army on Saturday in the city of Zawiya, some 45 km west of the capital Tripoli.
"Our forces shot down a MiG-23 fighter jet belonging to the war criminal Haftar (commander of east-based army) in southern Zawiya," the UN-backed government forces said in a statement.
The fighter jet's pilot was captured, the statement added, revealing no details about casualties.
The east-based army has been leading a military campaign since early April in and around Tripoli, in an attempt to take over the capital city and overthrow the UN-backed government.
The armed conflict has killed and injured thousands of people, while displacing nearly 120,000 civilians.
On Thursday, UN-backed Libyan Prime Minister Fayez Serraj said there will be no cease-fire without the withdrawal of the rival east-based army from western Libya.