Made-in-China products shine, contribute to 'green' World Cup in Qatar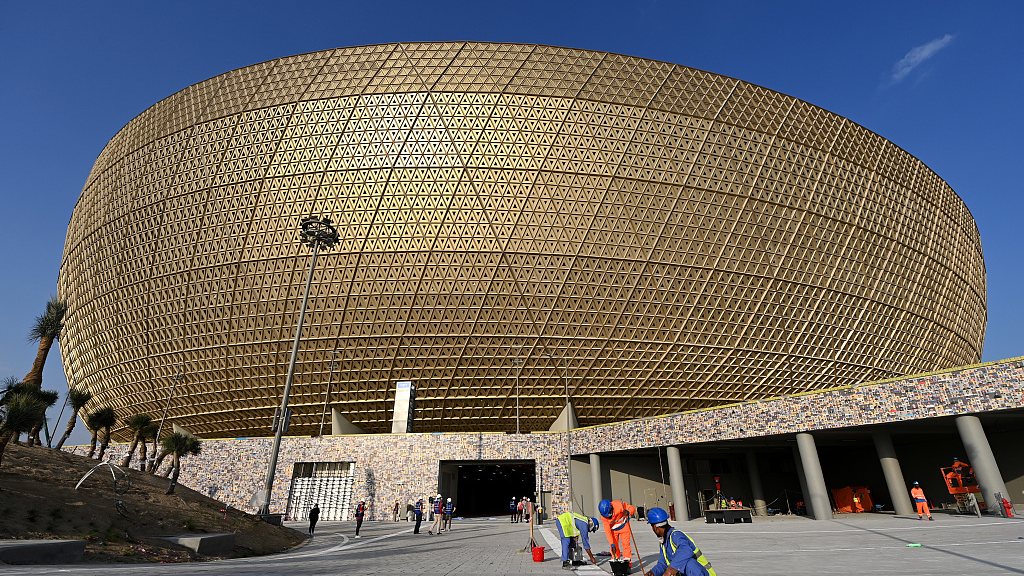 The FIFA World Cup 2022 opened in Qatar on Sunday, with Chinese-made products ranging from stadiums to water supply systems and clean energy technologies shining, ensuring a green global football extravaganza in the high-temperature desert area.
Zhou Jian, Chinese ambassador to Qatar, told CGTN that China's contributions to the World Cup would optimize the close friendship between the two countries.
"The Lusail Stadium is an iconic project in the Chinese contribution to the World Cup. From infrastructure to telecommunications, from 1,500 new-energy buses to solar power plants, from match supplies to souvenirs and fan items, made-in-China can be found everywhere in Qatar."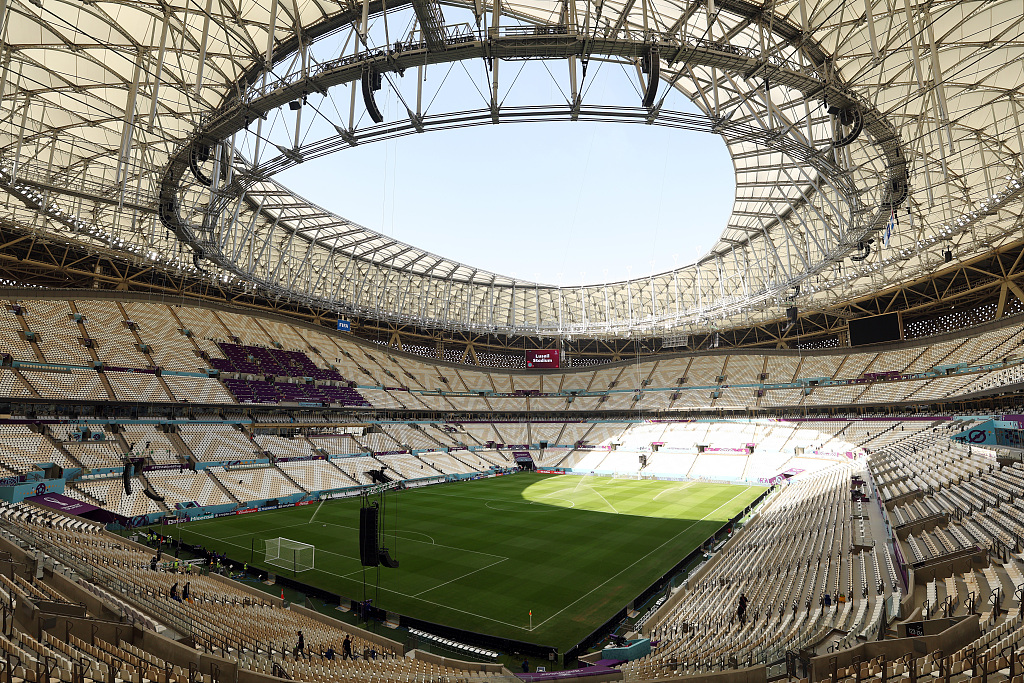 Lusail Stadium
Lusail Stadium, the main venue for this year's World Cup, was constructed jointly by Qatar and the China Railway Construction Corporation.
Shaped like a date palm bowl and an enamel lantern, the stadium will host the World Cup final, scheduled for December 18.
It is the first time a Chinese company has built a World Cup venue, and the Lusail Stadium is featured on the new 10-riyal banknote of Qatar.
Li Chongyang, head of the Chinese side of the Design and Construction of Lussel Stadium, told CMG that "so far, the Lusail Stadium is the world's most advanced, largest and most complex professional football stadium built to FIFA standards."
Lusail Stadium, which is able to host 80,000 spectators, has a very complicated facade and roof. It shows Chinese enterprise's technical capabilities and service levels, Hassan Al Thawadi, secretary general of the Supreme Committee for Delivery and Legacy for the 2022 FIFA World Cup, told CGTN.
'Green World Cup' in desert
Qatar is a country where "water is more expensive than oil."
To ensure water safety during the World Cup, Qatar has built 15 super-large water storage tanks in five locations across the country, with support from China.
Wang Shaohua, project manager of the Chinese side of the Qatar Super Large Reservoir, told CMG that "our construction technology has reached the level of international advanced enterprises. With technical breakthroughs, we handled concrete pouring in high-temperature desert areas."
Khalisa Lingam, field director of the Qatar Strategic Reservoir Project, told CMG that "the Chinese role in the construction was fast-paced with good quality. So far, they successfully passed all engineering quality tests without any problems. So, in my opinion, the Chinese companies are the best."
In addition, Chinese manufacturing plays a key role in driving Qatar's new energy power generation.
The 800-megawatt photovoltaic power plant in Al-Qasar, built by a Chinese company, significantly increased the share of renewable energy in Qatar's energy consumption, helping the country towards its commitment of hosting a "green World Cup."
Li Jun, on-site construction manager of the Chinese side at the Qataraqsa 800MW photovoltaic Power Station Project, told CMG that "all the 800MW photovoltaic area of this project has adopted Chinese equipment, counting for more than 60 percent of the total project investment and further enhancing the market share of Chinese brands in the Middle East."
Chinese-made buses are also providing shuttling services for fans during the World Cup. Qatar imported about 1,500 buses from China of which are 888 electric.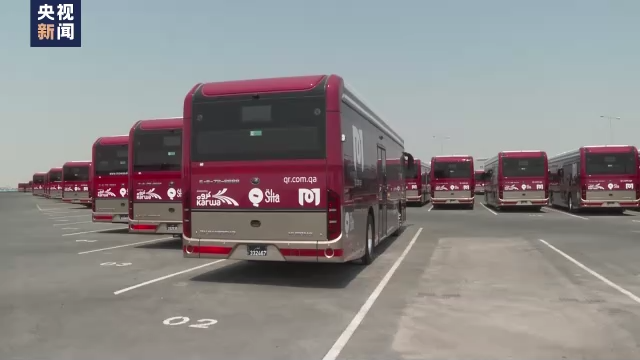 Chinese-made souvenirs
Chinese-made World Cup souvenirs are selling well among local football fans and foreign tourists in Qatar, with huge numbers of football fans flocking to shopping malls in the Middle Eastern country.
In a 20-square-meter store where officially licensed soccer balls and shirts are for sale, most of the products were made in China. A soccer ball costs about $22 and shirts are around $50.
The store has recently placed additional orders with authorized Chinese suppliers as sales have exceeded expectations.
"Sixty percent here we use the Chinese T-shirts and bags, and the products are of good quality from China. People love them," said Jafar Khan, a sales clerk at the store.
World Cup 'fan village'
Chinese enterprises have also participated in the construction of the World Cup's "fan village."
Qatar's land area is only around 11,000 square kilometers. To provide accommodation for tens of thousands of fans from around the world, the Middle Eastern country has built 6,000 container houses in the "fan village," located south of the country's capital Doha.
Each house accommodates two people, so the fan village can host up to 12,000 fans in total.
The container houses have been built by Chinese enterprises. Each is equipped with a toilet, an air-conditioner and a fan, said Omar Al Jaber, executive director of the Housing Department at the Supreme Committee for Delivery and Legacy for the World Cup.