Indian capital struggles with very poor air quality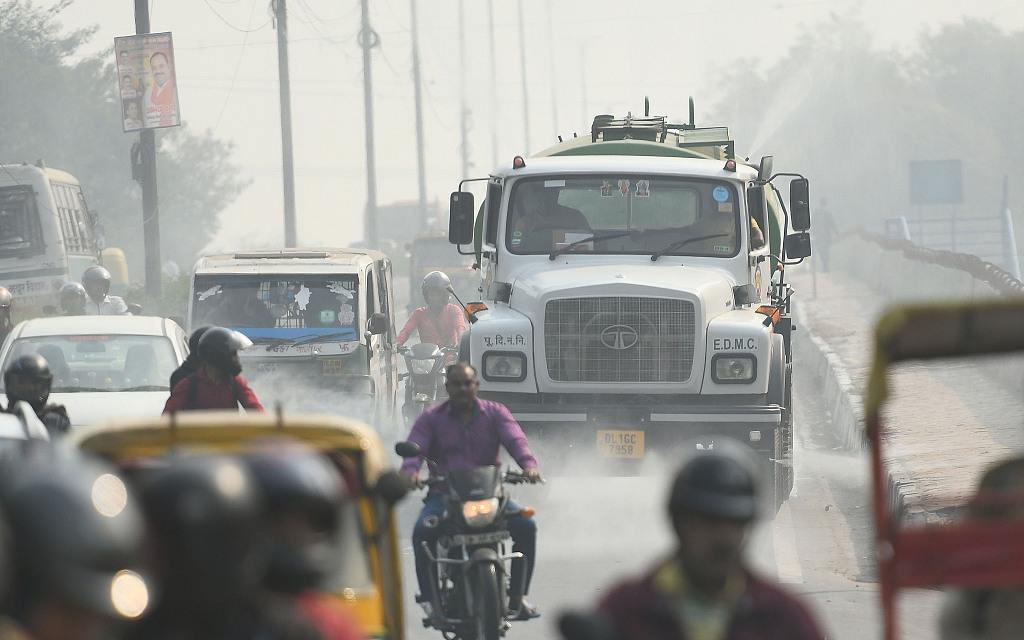 An East Delhi Municipal Corporation water tanker sprinkles water in the Laxmi Nagar area to reduce air pollution, on November 21, 2019 in New Delhi, India. (Photo: VCG)
NEW DELHI, Nov. 23 (Xinhua) -- The air pollution level in the Indian capital of New Delhi and outskirts of the national capital region (NCR) remained very poor on Saturday, officials said.
According to the Central Pollution Control Board (CPCB), the overall air quality index (AQI) in the city remained in very poor category at 337.
"The AQI in Delhi at 9:00 a.m. (local time) today was recorded at 337," data released by CPCB said. "The prominent pollutant is PM 2.5 and air quality is in the category of very poor."
It is for the third straight day that people are breathing very poor air in the capital.
Earlier this week improvement in the air quality was recorded. However, it fell back immediately into very poor category.
Health officials say very poor air quality causes respiratory illness on prolonged exposure.
As per CPCB, AQI between 0-50 is considered "good," between 51-100 "satisfactory," between 101-200 "moderate," between 201-300 "poor," between 301-400 "very poor," and between 401-500 "severe" and beyond 500 is severe plus emergency.
The Delhi government blames stubble burning by farmers in neighboring states of Haryana and Punjab for recurrence of deteriorating air quality in the city.
The government this month enforced a car rationing scheme to minimize air pollution. As per the scheme locally known as odd-even formula, private cars with odd registration numbers are allowed to run on odd dates, while as even-numbered cars would ply on even dates.
The authorities even were forced to announce a public health emergency and close down schools in wake of the pollution.
Air pollution continues to worsen in New Delhi and it gets aggravated during winter months.
Ahead of winters farmers burn agricultural waste to clear cropland, which experts say contributes to the choking of already polluted air.
Delhi tops the chart of the most polluted city in the world.