The latest: COVID-19 outbreak worldwide (Updated April 12)
People's Daily app
1586694321000
The global death toll from COVID-19 increased by to 102,193 as of 2:00 am CEST on Sunday, according to the World Health Organization (WHO).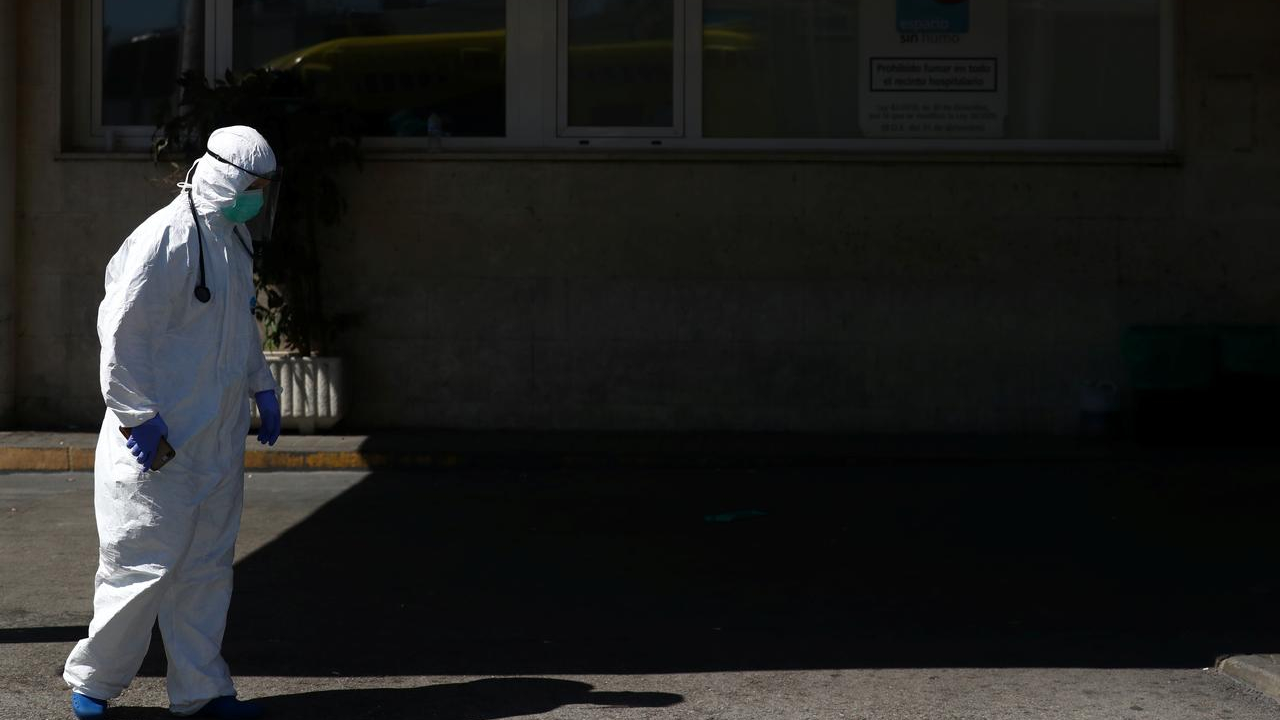 A healthcare worker is seen near the emergency unit at 12 de Octubre hospital during the coronavirus disease (COVID-19) outbreak in Madrid, Spain, March 28, 2020. (Photo: CGTN)
A total of 1,654,247 confirmed cases of COVID-19 as of Sunday, according to WHO.
Current status (data as of 8:00 pm BJT, April 12):
The US reported 530,006 confirmed cases of COVID-19 as of 7:30 pm BJT on Sunday, with 20,608 deaths, according to the Johns Hopkins University tally.
Spain has recorded 16,972 fatalities and 166,019 infections.
Italy, which recorded its first coronavirus death at the end of February, has 19,468 fatalities, with 152,271 infections and 32,534 people recovered.
The total death toll from the virus-caused COVID-19 in France has reached 13,832, Director General of Health Jerome Salomon announced on Saturday. According to Salomon, the country's total hospitalized COVID-19 patients increased to 31,320, including 6,883 in intensive care units (ICUs).
Germany on Sunday morning reported a total of 120,479 confirmed COVID-19 cases, up by 2,821 over the past 24 hours, according to the Robert Koch Institute, the country's disease control agency.
The death toll of those hospitalized in Britain who tested positive for the novel coronavirus reached 9,875 as of Friday afternoon, marking a daily increase of 917, the Department of Health and Social Care said Saturday. As of Saturday morning, the number of confirmed cases of COVID-19 in Britain hit 78,991, said the department.
The number of confirmed cases in Iran has risen to 70,029, with the number of deaths at 4,474.
Turkey's total confirmed cases of COVID-19 climbed to 52,167, with 5,138 new patients reported in the last 24 hours, Turkish Health Minister Fahrettin Koca said Friday. The death toll from the novel coronavirus in Turkey reached 1,101 after 95 more lost their lives over the past 24 hours, Koca said at a press conference.
Since the start of the coronavirus epidemic, Belgium has recorded 3,600 deaths as of Friday, according to Belgian health authorities. The number of confirmed cases has risen to 29,647, according to the Johns Hopkins University.
Confirmed cases of COVID-19 in Switzerland increased to 25,300 with 1,036 deaths, Johns Hopkins reported.