Trump attack on witness draws Pelosi response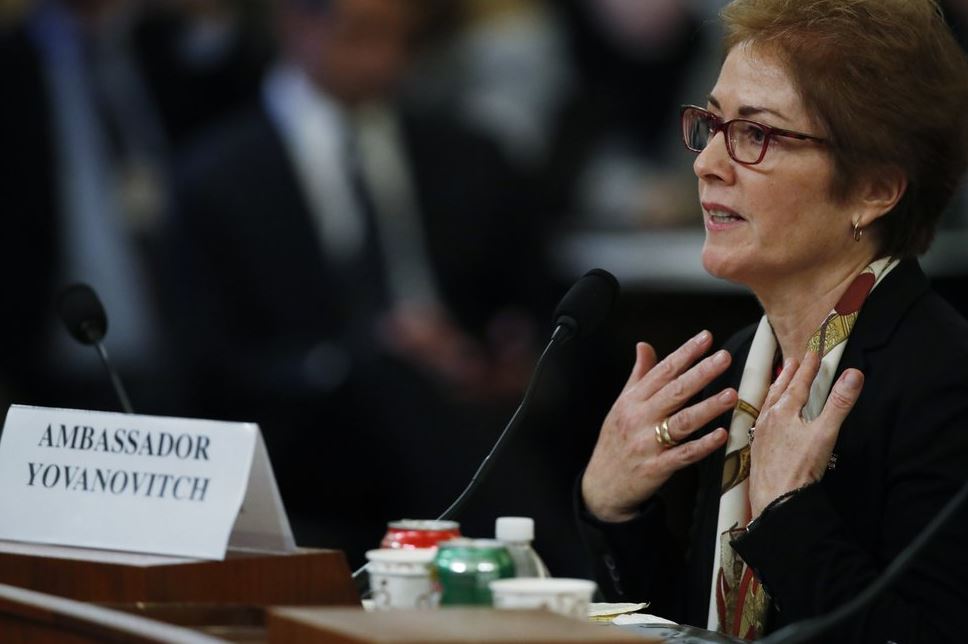 Former Ambassador to Ukraine Marie Yovanovitch testifies before the House Intelligence Committee on Capitol Hill in Washington, Friday, Nov. 15, 2019, during the second public impeachment hearing of President Donald Trump's efforts to tie US aid for Ukraine to investigations of his political opponents. (Photo: AP)

House Speaker Nancy Pelosi says witness intimidation is a crime.
But she's stopping just short of saying that President Donald Trump crossed that line with a tweet attacking the former US ambassador to Ukraine as she testified in the House impeachment hearings.
The California Democrat told reporters she'd not seen Trump's tweet. He wrote that every country where Marie Yovanovitch worked as an envoy "turned bad."
Asked if that tweet was witness intimidation, Pelosi said, "Witness intimidation is a crime."
She said one question was if such actions by Trump were "keeping people from giving facts and then saying, 'You don't have the facts.'"
Asked if Trump's tweet was appropriate, she says, "Appropriate and president in the same sentence? Come on. Why would we start making that judgment now?"
Two Republican lawmakers at Friday's impeachment hearing with former US Ambassador to Ukraine Marie Yovanovitch say they think her testimony is irrelevant.
Rep. Scott Perry of Pennsylvania said Yovanovitch is "a very nice lady" but he believes Democrats are using her. Rep. Mark Meadows of North Carolina says the public is just learning about her feelings.
Yovanovitch described her ouster in May at Trump's direction and a campaign against her by Trump's lawyer, Rudy Giuliani. The impeachment investigation is looking at Trump and Giuliani's efforts to push Ukraine to investigate Democrats. She was ousted before a July call in which Trump asked Ukrainian President Volodymyr Zelenskiy for the investigations.
House Intelligence Committee Chairman Adam Schiff said Yovanovitch's ouster "helped set the stage for an irregular channel" of conducting Ukraine policy that was used to push for the investigations.
The No. 3 Republican in the House says President Donald Trump "was wrong" to post tweets critical of former Ambassador Marie Yovanovitch during her testimony in the impeachment hearings.
Rep. Liz Cheney said Yovanovitch "clearly is somebody who's been a public servant to the United States for decades and I don't think the president should have done that."
The Wyoming Republican served in senior State Department roles when her father, Dick Cheney, was vice president and she has been more supportive of the career diplomats that have so far testified than some other Republicans.
Trump tweeted about Yovanovitch as she was answering questions from lawmakers, noting that she'd once served in Somalia and adding, "How did that go?" He tweeted: "Everywhere Marie Yovanovitch went turned bad."