62 killed, 53 injured as avalanches hit Pakistan-controlled Kashmir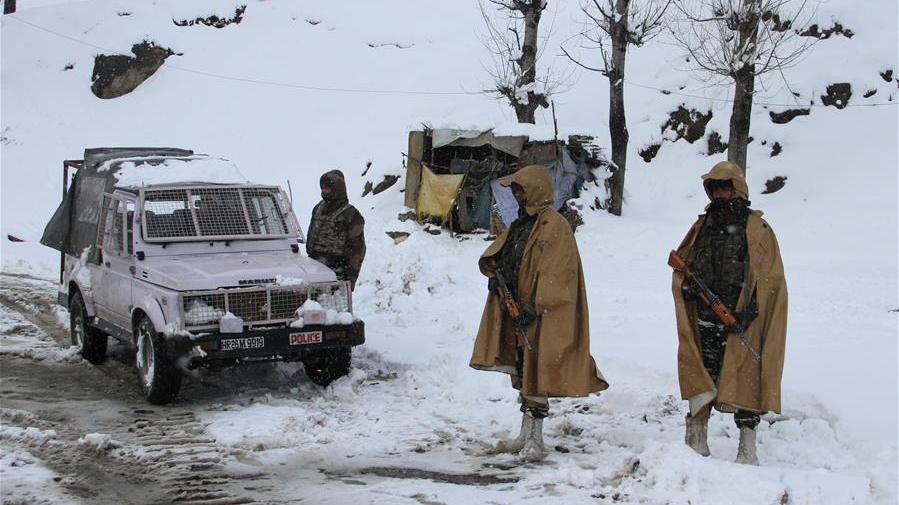 Indian paramilitary troopers stand guard on a snow-covered road after a snowfall in Qazigund area of Anantnag district, south of Srinagar, the summer capital of India-controlled Kashmir, January 5, 2019. (Photo: Xinhua)
ISLAMABAD, Jan. 14 (Xinhua) -- At least 62 people were killed, 53 injured while 28 went missing in separate incidents of avalanches and rainfall in Pakistan-controlled Kashmir, officials said Tuesday.
A total of 58 houses were fully destroyed while 82 others got partially damaged in separate snow and rain triggered accidents in the territory, a handout by the disaster management authority of the Pakistan-controlled Kashmir said.
The Neelum Valley area was the worst hit where 59 people were killed and 53 others injured when over 50 houses were buried by avalanches. While the rescue operation continues in the area, 28 people are still missing and the search continued during the day, but slowed down because of the darkness of the night, which created a major hurdle for the rescue teams to carry out their job, Ahmed Raza Qadri, a disaster management official of the Pakistan-controlled Kashmir, told Xinhua.
Qadri said that heavy rains and snow had been pounding Neelum Valley for the last few days, and the weather condition not only wreaked havoc on some of the residential colonies, but also blocked the main thoroughfares, making it hard for rescue teams to provide fast rescue and relief services to the trapped people.
He said that Rescue 1122, a state-owned rescue agency, Pakistani military and other non-governmental organizations carried out the rescue and relief operations during the day.
The military dispatched helicopters to the affected areas to recover bodies from the snow, and shifted the injured to the hospital. Food and medicine were also sent to the affected areas, Saeed ur Rehman Qureshi, another disaster management official in the region told Xinhua.
He said that there had been raining in the area over the last two days, and the active weather cycle contributed to the multiple avalanches as rainwater made snowpack lose strength, triggering the avalanches.
"The meteorological office told us about the situation in advance, and we also issued an advisory for the people, but avalanche is something which cannot be prevented, though villagers might have taken some measures," he added.
Expressing sorrow over the calamity, Pakistani Prime Minister Imran Khan said the severe snowfall and landslides had caused misery and deaths, and he had asked the military, the disaster management authority and all federal ministries to "immediately provide all humanitarian assistance on an emergency footing to the affected people."
Qureshi blamed climate change as the major contributor to the unusual weather pattern in the area. "The effect of climate change is so rapid in the area that unexpected weather patterns including torrential rains, cloudburst, heavy snowfall and avalanches triggered by them are being witnessed in the region."
In July last year, over 20 people were killed after being swept away by flashflood after days of heavy rain and sudden cloudburst in Neelum Valley.