Evacuation order issued as massive wildfire moves closer to communities in Arcadia, California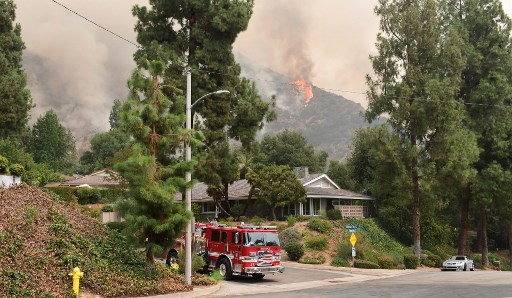 The Bobcat Fire burns on hillsides behind homes in Arcadia, California on September 13, 2020 prompting mandatory evacuations for residents of several communitues living along the foothills of the San Gabriel Mountains. (Photo: AFP)
LOS ANGELES, Sept. 13 (Xinhua) -- An evacuation order was issued Sunday morning for residents in parts of the City of Arcadia in Southern California as a massive wildfire is burning closer to the populated communities.
All residents north of Elkins Ave. and east of Santa Anita Ave. were ordered to evacuate due to dangerous wildfire conditions, said the city in an order.
"Do not wait until it is too late," warned officials. "If you have not already done so, quickly gather your family, pets, important papers, medications, and any emergency supplies, and evacuate the area as soon as possible. If your family must split up, determine a designated meeting place to account for every member."
The blaze, dubbed Bobcat Fire, has scorched around 32,000 acres (around 129.5 square km) with only 6 percent containment in a week as of Sunday morning, according to InciWeb, an interagency all-risk incident web information management system.
"The fire continues to actively grow to the north and south, with keeping it out of the foothills communities as the top priority. Crews are constructing handline and dozerline where possible to stop the downhill progression," InciWeb said, adding that helicopters are being used to support the ground forces as air conditions allow.
Over 800 firefighters are battling the blaze and a Red Cross evacuation center has been established in Arcadia.
Evacuation warnings are still in effect for other cities nearby, including Monrovia, Bradbury, Sierra Madre, Altadena, Duarte and Pasadena.
Arcadia and some other cities in San Gabriel Valley have the most populated Chinese American community in Southern California. Nearly half of the 60,000 residents in Arcadia are Chinese Americans.
"The air quality is very poor due to smoke from the Bobcat Fire in recent days," said Linwood Zhou, an Arcadia resident who lives near Santa Anita Ave.
"It's my first time to see a terrible wildfire so closely. We can watch the blaze burning in the mountains just in front of my residence," he told Xinhua, expressing his admiration for the firefighters who are battling wildfires across California.