Syrian army to observe cease-fire in Idlib from Saturday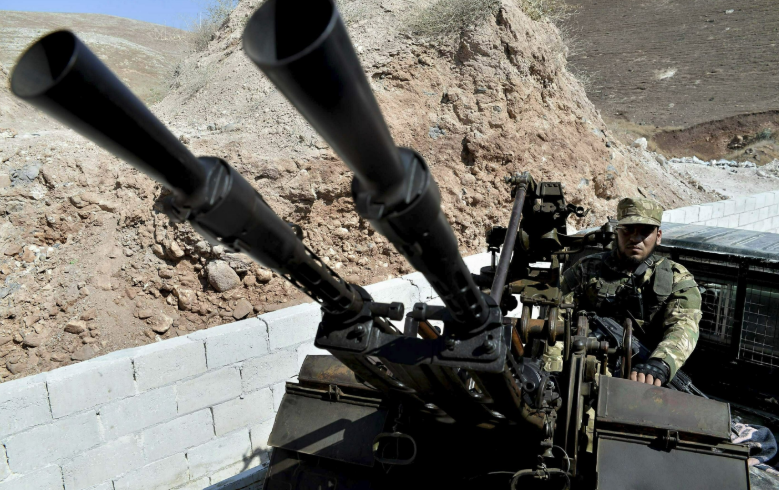 Fighters with the Free Syrian army patrol the outskirts of the northern town of Jisr al-Shughur, Syria, west of the city of Idlib in Sep. 2018. (File photo: AP)
DAMASCUS, Aug. 30 (Xinhua) -- The Syrian army on Friday agreed to observe a cease-fire in the country's northwestern province of Idlib, which is the last major rebel stronghold in the country, as of Saturday morning, state TV reported.
Citing the Syrian army, the TV said the cease-fire will go into effect on Saturday morning, noting that the Syrian army reserves the right to respond to any violation by the rebels.
Hours ahead of the official Syrian announcement, Russia's Defense Ministry declared the cease-fire, noting that it's a "unilateral" agreement that will begin at 06:00 a.m. local Syria time (03:00 GMT) in a bid to stabilize the situation in Idlib. It urged the rebels to abandon armed provocations and join the peace process.
The announcement comes a day after Mark Lowcock, the UN's emergency relief coordinator, called on the UN Security Council to take meaningful action to protect the civilians in Idlib, where an estimated three million civilians live.
It's the second cease-fire to take place in Idlib this month. On August 1, a Russian, Turkish-backed cease-fire was reached but was quick to collapse.
Since then, battles flared and the Syrian government forces were able to make notable gains, capturing key areas in the southern countryside of Idlib and the adjacent northern countryside of Hama province.
It's not clear if the new cease-fire would hold given the fact that the al-Qaida-linked Nusra Front is the striking force among other likeminded groups in Idlib and it was the reason behind the failure of the previous agreement.
The new cease-fire, if worked, would halt battles that have been raging recently in Idlib between the Syrian army and the al-Qaida-linked groups.
It's worth noting that areas in the countryside of Hama and the adjacent Idlib province are included in the de-escalation zones' deal established by Russia and Turkey last September.
Under the deal, Turkish observation points were set up in areas in Idlib and Hama.
However, the deal failed to materialize as the al-Qaida-linked Nusra Front rejected to withdraw and battles flared last April.