Sri Lankans to elect their 8th president on Saturday
It's a historic presidential election in Sri Lanka with 35 names thrown into the hat, including a woman. The record number of contestants is costing the government a whopping 41 million U.S. dollars, which is unprecedented for the island nation. The battle is between two dynasts – a brother and a son. Gotabaya Rajapaksa, former defense minister, is the brother of former President Mahinda Rajapaksa. His opponent Sajith Premadasa is the son of former President Ranasinghe Premadasa.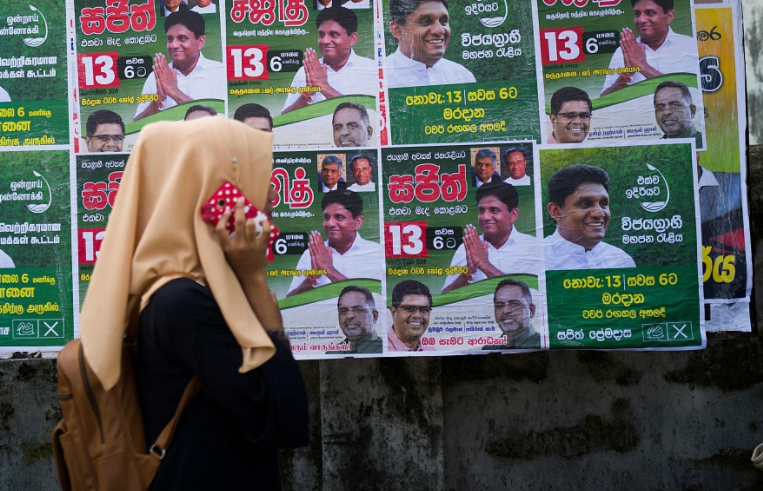 A girl walks past electoral posters of the deputy leader of the ruling United National Party (UNP) and New Democratic Front presidential candidate Sajith Premadasa in Colombo, Sri Lanka, November 12, 2019. (Photos: VCG)
Political analyst Dr. Paikiasothy Saravanamuttu explained: "It is a neck and neck fight but there are arguments to suggest that Gotabaya Rajapaksa's campaign has peaked and that there is slow but sure momentum toward Sajith Premdasa. But if you speak to die-hard supporters of Rajapaksa they will tell you that he will win by a landslide. I think a lot is going to depend on the minorities and how many of them actually come out. Because if they come out in large numbers then I think Gotabaya has a problem because the assumption is that they will primarily vote for Premadasa."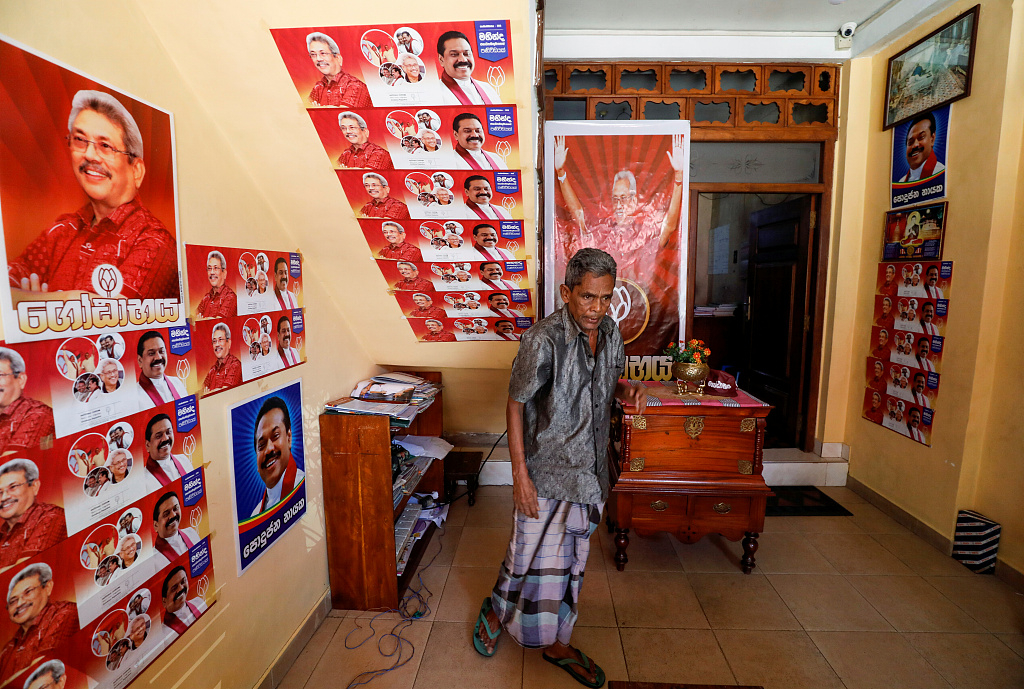 A supporter of Sri Lanka's People's Front party presidential candidate and former wartime Defense Secretary Gotabaya Rajapaksa is seen inside a campaign office in Colombo, Sri Lanka, November 13, 2019.
The presidential contest between Rajapaksa and Premadasa is turning into a contest between two opposing political ideologies – one that thrives on ethnic polarization and another that speaks of an all encompassing nation.
Rajapaksa enjoys the support of many in the Sinhala Buddhist majority. He is credited for ending the 26-year-long civil war in 2009. Although he faces legal cases for his alleged role in torture and murder during the war, he has positioned himself as the strongman who can protect the country. "People want peace, harmony and security. They want their children to go to school safely in a bus. They want to drive to office without any fear and want to prosper in life. Prosperity is impossible without security and that's why national security has become a key issue in these elections," said Basil Rajapaksa, national organizer of the team of Rajapaksa.
The counter argument to this given by team Premadasa is: "We are talking of a social political revolution. We want to bring in new political culture and we don't want to entertain anyone who has any allegations of corruption. We are offering the people a young, clean dynamic professional team to run the country as opposed to our opponent. Our candidate has no allegations of corruption. For us, we are all Sri Lankans. Unlike our opponents who have polarized the nation and this will destroy the nation. This is one country – an undivided indivisible nation where we can all live in peace in harmony," explained Dr. Harhsa de Silva, non-cabinet minister of Economic Reforms and Public Distribution.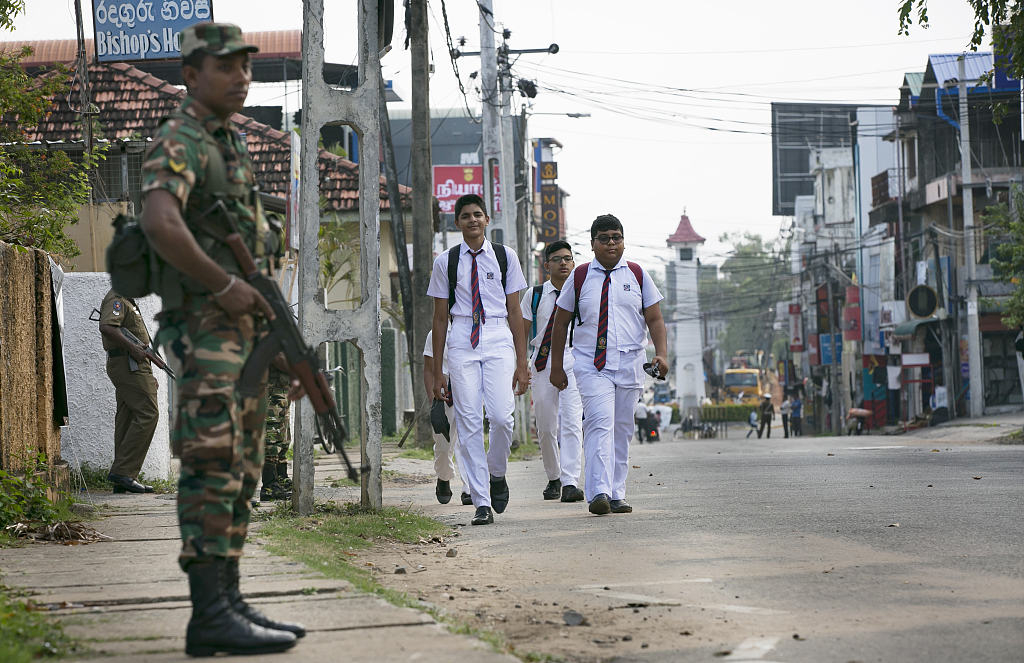 Security is seen as students return to school as schools re-open across the country after the Easter attacks in Batticaloa, Sri Lanka, May 6, 2019.
The presidential election is taking place in the shadow of the April 2019 Easter Sunday attacks which killed more than 250 Sri Lankans. The attacks exposed ethnic fault lines that has created a space for divisive politics. "What happened with the Easter Sunday attacks was to reinforce a global trend of authoritarian and majoritarian leadership in favor of Rajapaksa. He is presenting himself as 'I can protect you from the terrorism that hit the country in April.' The events outside have suggested that he is the man of the hour, and in fact, he announced candidacy just four days after the attacks," commented Saravanamuttu.
Despite appeals, it is difficult for a common citizen to dissociate from the event that gripped the nation.