The latest: COVID-19 outbreak worldwide (Updated September 16)
People's Daily app
1600253940000
Globally, as of 6:30 pm BJT on Wednesday, there have been 29,155,581 confirmed cases of coronavirus, including 926,544 deaths, reported the World Health Organization.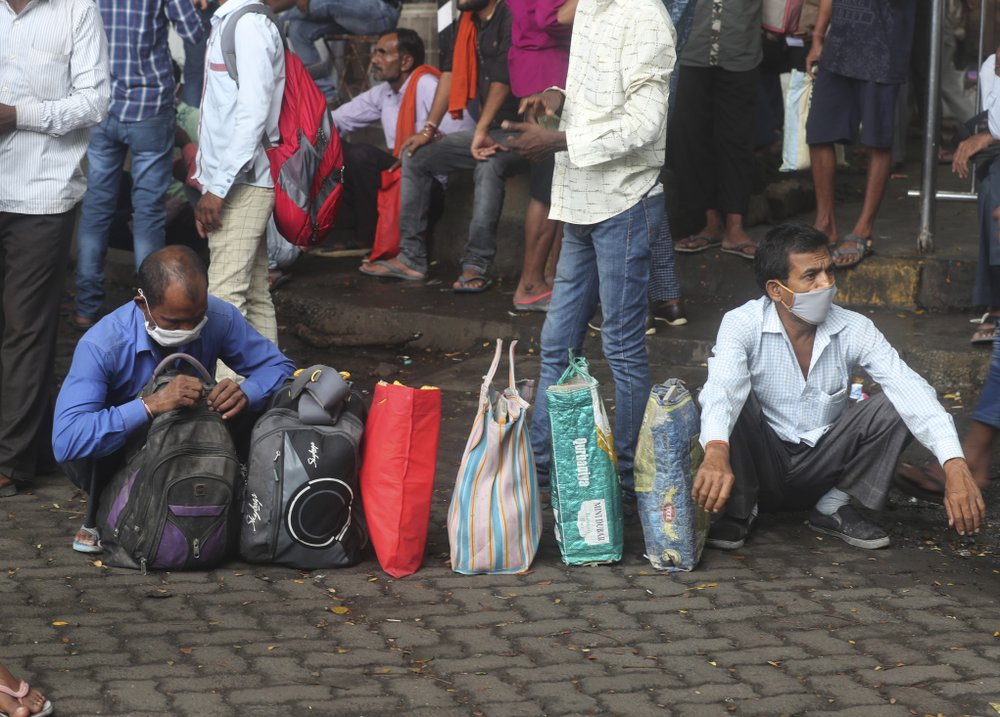 Daily wage laborers wait to get hired for the day in Mumbai, India, Wednesday, Sept. 16, 2020. (Photo: AP)
Current status (data as of 6:30 pm BJT, September 16):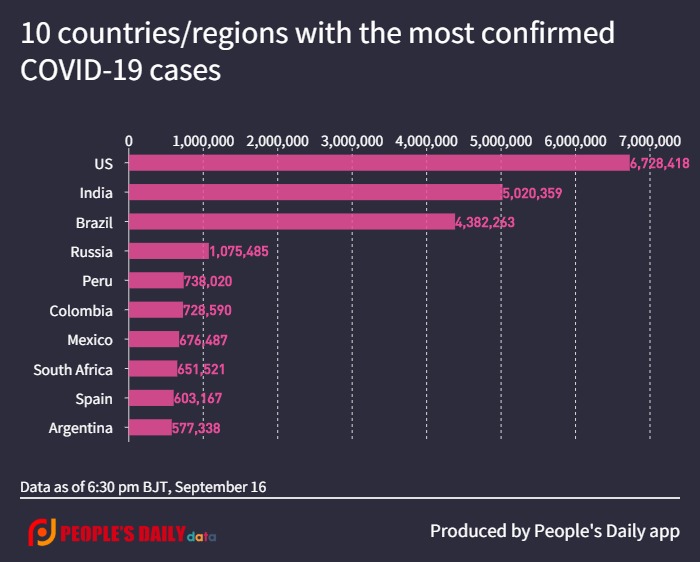 Sources: Xinhua, Johns Hopkins University, national public health agencies.
The outbreak has now claimed 199,312 lives in the US, the most of any country, with a total of 6,728,418 infections, according to a tally by the 1Point3Acres virus tracker as of 6:30 pm BJT on Wednesday.
India has confirmed a total of 5,020,359 COVID-19 cases, raising the number of deaths to 82,066.
Confirmed cases of COVID-19 in Brazil have increased to 4,382,263 with 133,119deaths, Johns Hopkins reported.
Russia has confirmed 1,075,485 cases of COVID-19, with the number of deaths at 18,853.
Peru has reported 738,020 COVID-19 cases and 30,927 deaths from the virus so far.
Colombia's confirmed cases have increased to 728,590, with the number of deaths at 23,288, according to the JHU virus tracker.
It is followed by Mexico with 71,678 deaths from 676,487 infections.
South Africa has recorded 651,521 confirmed cases and 15,641 deaths.
The coronavirus pandemic has claimed 30,004 lives in Spain, bringing the total number of infections to 603,167.
A total of 577,338 people in Argentina have tested positive for COVID-19, with the death toll at 11,852.