40 dead, missing in natural disasters in central Vietnam
HANOI, Oct. 13 (Xinhua) -- Downpours and consequent flooding among other natural disasters in Vietnam have left 28 people dead and 12 others missing in its central area and the Central Highlands over the past few days, the Central Steering Committee for Natural Disaster Prevention and Control said Tuesday.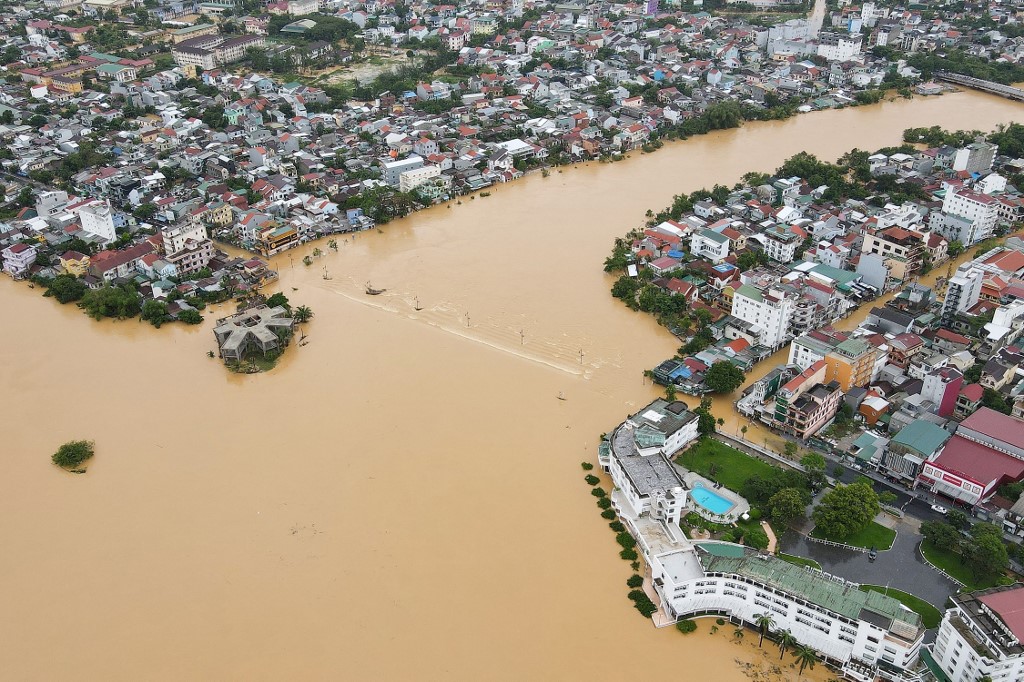 An aerial picture shows Hue city, submerged in floodwaters caused by heavy downpours, in central Vietnam on October 12, 2020. (Photo: AFP)

The death toll rose significantly from 18 reported Monday. The victims were mainly reported in the localities of Quang Tri, Thua Thien Hue and Quang Nam, according to the committee's latest report.

Among the 28 dead, 22 were swept away and eight others reported missing in floods, the committee said.
As of Monday night, nearly 21,800 households with roughly 66,600 people had been evacuated. Some 131,100 houses were inundated, with 415 either collapsed or damaged, according to the report.
Meanwhile, 592 hectares of rice fields and nearly 4,200 hectares of other croplands were submerged, said the committee, adding that nearly 156,300 cattle and poultry animals were killed or swept away.
Since Oct. 5, downpours have hit Vietnam's central and Central Highlands localities, with the accumulative rainfall surpassing 1,800 mm in some areas.
In the coming days, large-scale inundation is expected to continue in low-lying areas in the central provinces of Quang Binh, Quang Tri, Thua Thien Hue and Quang Nam, said the report.
Until Sept. 22 this year, natural disasters had left 93 people dead or missing and 272 injured in Vietnam, according to the committee.
The disasters, mainly whirlwinds, floods, landslides and downpours, also caused economic losses of about 5 trillion Vietnamese dong (217.4 million U.S. dollars) during the period, said the committee.