Pompeo accusing China of using Floyd's death to produce propaganda is 'slander': Chinese FM
Global Times
1591625657000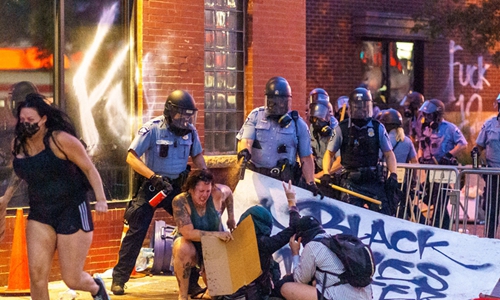 Police spray protesters with pepper spray during a demonstration over the killing of George Floyd by a policeman outside Minneapolis Third Police Precinct on May 27 in Minneapolis, Minnesota. (Photo: AFP)
With the number of confirmed cases in the US surpassing 1.9 million and mas-sive protests triggered by the death of George Floyd raging across the country, it is very "sad" to see that US Secretary of State Mike Pompeo has a mouthful of lies and spreads slanders all day long, the Chinese Foreign Ministry said Monday.
Chinese Foreign Ministry spokesperson Hua Chunying made the remark at a daily briefing in Beijing, refuting comments by Pompeo accusing China of using Floyd's death to produce propaganda.
Hua said the confirmed number of COVID-19 patients in the US had surpassed 1.9 million, with the death toll reaching 110,000, and large-scale protests still ongoing. "We truly feel sad for the American people," Hua said, and hoped they could soon get through the difficulties.
However, despite the domestic situation, Pompeo still has a mouthful of lies and spreads slander all day long, which is sad, Hua told reporters.
With 57 years passing between Martin Luther King declaring "I have a dream" in 1963 to Floyd's "I can't breathe," equal rights for minorities in the US are still a dream and there are still serious and systemic racial discriminations in US society. It is not a propaganda, but a reality that all walks of lives in the US are clamoring for reflection, Hua said.
Unlike the US, China holds to the basic principle of not interfering in the politics of other countries. Some US politicians ignore their own domestic problems but recklessly neglect their responsibility, which is neither ethical nor helpful in solving their own problems, Hua said.
Public health experts had warned that the mass protests are accelerating the spread of the virus in the US, with many protesters breaking social distancing rules and not even wearing masks during the demonstrations.