Italy's month-long coronavirus lockdown full of new precedents, signs of resilience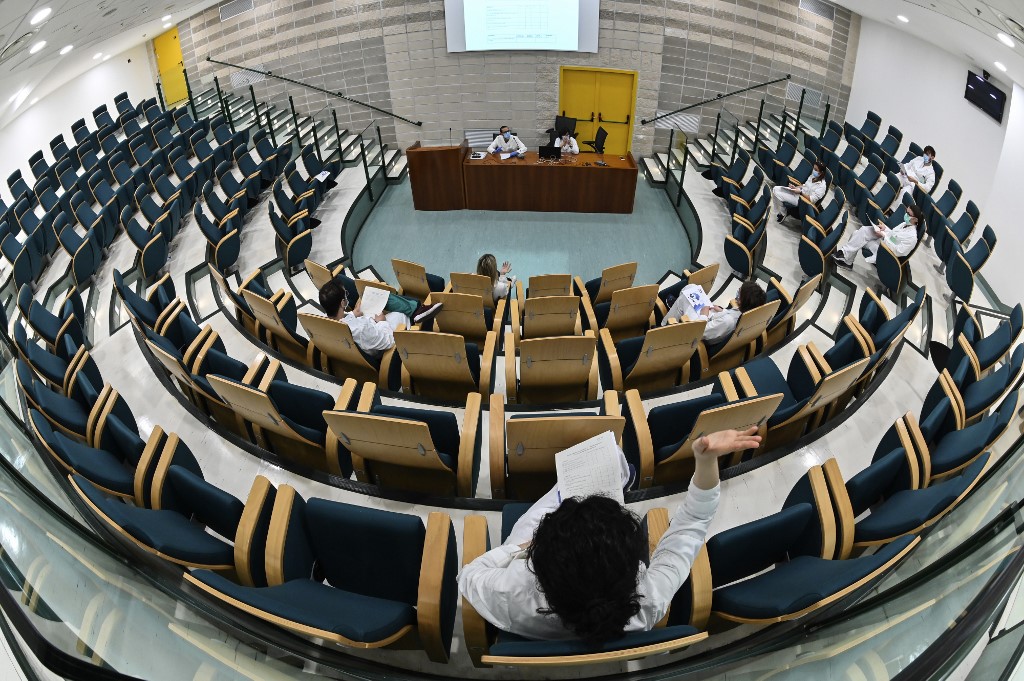 Director of UOC Psychiatry and Clinical Psychology Alberto Siracusano (L) speaks during a scheduled course with PhD students to deal with emotional management of personal family and work issues to the intensive care unit for patients infected by the novel coronavirus, at the Policlinico di Tor Vergata hospital, in Rome on April 8, 2020. (Photo: AFP)
ROME, April 9 (Xinhua) -- A month into its national coronavirus lockdown, Italy has seen five decrees from Prime Minister Giuseppe Conte, 80 new ordinances from civil protection figures, and changes in the way Italians live that go so deep they are likely to last far longer than the outbreak itself.
Conte declared the first national lockdown on March 9, with it entering into force the following morning. At first, restaurants and coffee bars were allowed to stay open between 6 a.m. and 6 p.m., but subsequent decrees closed them and within days, all of the more than 60 million people in Italy were obligated to stay at home except for "vital" reasons, such as visits to the doctor or pharmacy, or for food shopping.
At first, the virus spread at an increasingly rapid rate, at one point seeing the number of infections doubling every three days. The single-day record for new infections -- 6,557 -- came on March 21, and the one-day peak for the official national death toll of 969 six days later. But since late March, the curve has started to flatten.
"One thing we have learned first-hand over the last month is that a national quarantine works," Silvio Paone, a virologist and researcher at Rome's La Sapienza University, told Xinhua. "It is difficult and it does not work as quickly as we would like it to. But until there is a cure or a vaccine, quarantine is the only way to confront the spread of a virus such as this one."
During the last month, Italy has had many unusual experiences: the lockdown itself was the first in peacetime in Europe, and schools were closed nationally for the first time since they were boarded up in the southern part of the country during a cholera outbreak in 1973. The country's workforce made a dramatic shift toward telecommuting.
Almost all domestic flights were halted; all of the country's nearly 4,600 museums were shuttered; Serie A, one of the world's most high-profile soccer leagues was suspended; and even weddings and funerals were prohibited -- all for the first time in Italy's history.
The economic consequences are expected to be dire. Italy's economy was already one of the slowest growing in Europe, but the consensus estimate from multilateral organizations, investment banks, and economists is that it will contract by around 8 percent this year. If that happens it means Italy's economy will be around the same size as it was 20 years ago even before adjusting for inflation.
None of that counts as good news. But according to Riccardo Puglisi, an economist in the Department of Political Science at the University of Pavia, it could have all been far more severe.
"There's a stereotype that Italians are undisciplined rule-breakers, but the truth is we have done better than I would have expected before all this started," Puglisi said in an interview, referring to residents' month-long adherence to the quarantine rules. "Time and time again we see that Italians have a certain kind of resilience and an ability to rise to the occasion. We have seen it again here."