China: US-imposed staff cap on Chinese media outlets a 'political oppression'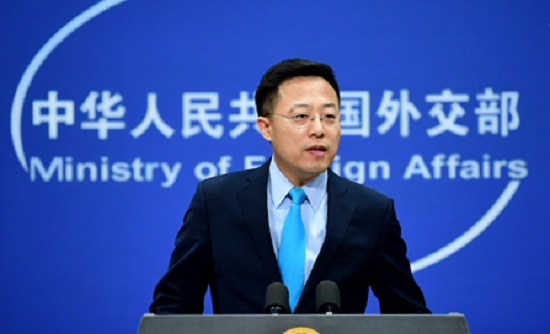 File photo
The Chinese Foreign Ministry on Tuesday expressed strong condemnation and firm opposition to the U.S. announcement of a personnel cap on five Chinese media entities in the U.S., calling the move a "political oppression" that fully demonstrates its Cold War mentality.
The personnel cap will limit to 100 the number of Chinese citizens who work in the listed Chinese news organizations that were forced to be registered as "foreign missions" by the U.S. State Department on February 18, Secretary of State Mike Pompeo said in a statement on Monday.
Foreign Ministry spokesperson Zhao Lijian refuted the decision in Tuesday's regular briefing, stressing that the continuously upgrading oppression against Chinese reporters in the U.S. has severely hindered the daily operations of the news organizations and damaged the bilateral ties.
"The U.S. offices of Chinese media have long been covering news following the principles of objectivity, impartiality, truth and accuracy," said Zhao, "They have helped promote mutual understanding, communication and cultural exchange between our two countries."
According to Zhao, the move was not only a betrayal to the U.S.'s proposed freedom of the press but also a demonstration of its hegemonism and Cold War mentality.
Zhao also refuted the U.S. claim that the move is based on "reciprocity" by pointing out that China has neither restricted the number of U.S. reporters in China nor repeatedly rejected or delayed the visa applications of reporters.
He was referring to U.S. visa restrictions on Chinese reporters and media outlets that led to the expulsion of 60 Chinese personnel from the U.S. in 2018.
He further noted the unfairness of the U.S. in treating Chinese reporters and media outlets. "The U.S. currently has 29 media entities in China, versus China's nine in the U.S. Regarding visa policies, U.S. reporters are issued with multiple-entry visas compared with the single-entry visas the U.S. issues to Chinese reporters – which needs to be renewed with a visa fee of 350 U.S. dollars, twice that in China."
He condemned the U.S.'s discrimination against Chinese reporters, adding that China reserves the right to take measures in response to Washington's decision. "The U.S. broke the rules first and China has to respond."