Italy planning 150,000 coronavirus serological tests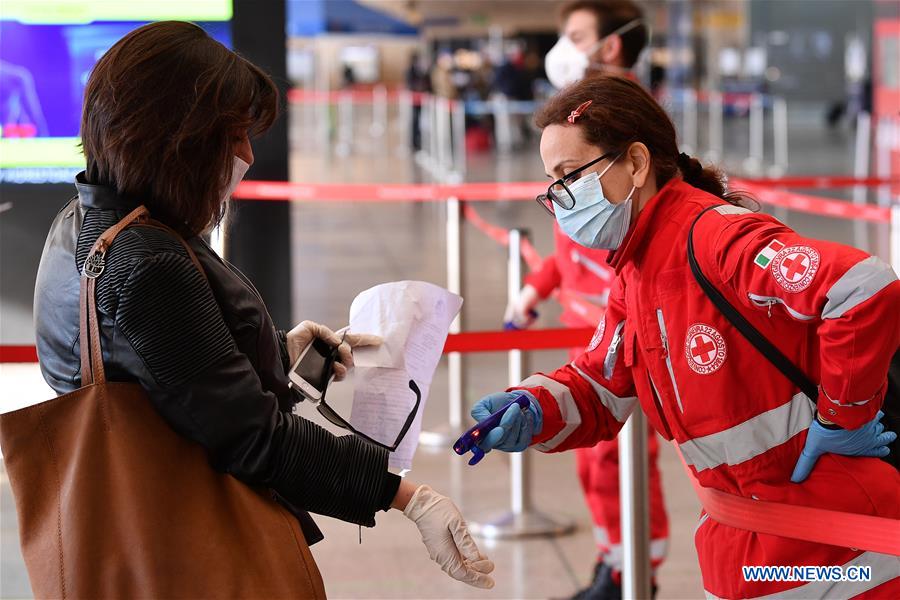 An Italian Red Cross staff member checks the temperature of passengers arriving at Termini railway station in Rome, Italy, on April 9, 2020. (Photo: Xinhua)
ROME, April 16 (Xinhua) -- Italy said on Thursday that it is set to perform serological test on around 150,000 individuals, opening a new front in the country's battle against the coronavirus pandemic.
According to Italy's Ministry of Health, this first nationwide testing initiative is not designed to definitively gauge people's immunity function, but rather to test the effectiveness and viability of the standards approved by Italy's Scientific Technical Committee, a key government advisory body, as it confronts the pandemic. The goal is to refine the test so that a single test can be used in the future.
The 150,000 tests will be conducted on people characterized as belonging to six different age groups, job profile, and gender.
Serological testing involves examining an individual's blood to determine whether they have been exposed to a specific pathogen. In this case, the goal will be to identify those who have been infected by the coronavirus based on the theory that those infected by the virus will have developed an immunity to it, even if they never became ill.
Identifying those not at risk of becoming infected by the virus could be a step toward the gradual reopening of the Italian economy. The country has been under a national lockdown since March 10.
According to local media, some of Italy's regions are already starting their own serological tests, most notably Tuscany, the region that includes Florence, which has struck an agreement with more than 60 private laboratories to test 400,000 people. Lazio, the region that includes Rome, reportedly has similar plans. Other reports say that Milan, the major Italian city hit hardest by the outbreak, will test 4,000 public transportation drivers.