Australian PM takes major polling hit amid bushfires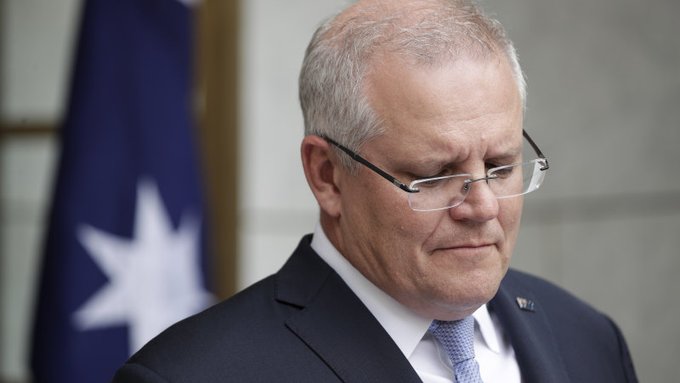 File photo of Australian Prime Minister Scott Morrison
CANBERRA, Jan. 13 (Xinhua) -- Australian Prime Minister Scott Morrison has suffered a blow to his approval rating amid the ongoing bushfire crisis.
According to the latest Newspoll, which was published on Sunday night by The Australian, revealed that Morrison's popularity has plunged since he became prime minister in August, 2018.
It was found that Morrison's net approval rating, which is calculated by subtracting his dissatisfaction rating from his satisfaction rating, has fallen from negative three in December to negative 22.
By comparison the net rating of Opposition Leader Anthony Albanese has risen 10 points to positive nine.
Albanese now leads Morrison as the preferred prime minister for the first time by a margin of 43 percent to 39; an 18-point swing from Morrison's 48-34 lead in December.
Poll analyst Kevin Bonham told The Guardian on Monday that Morrison's fall in preferred prime minister polling was "the equal second highest such loss in Newspoll history".
The Labor Party leads Morrison's governing Coalition 51-49 on a two-party preferred basis; the first time the government has trailed since winning re-election in May 2018.
The poll of 1,505 voters was taken amid the ongoing bushfire crisis, during which Morrison has been criticized for poor leadership.
He was forced to apologize in December after he went on a family holiday to Hawaii while much of his home state of New South Wales (NSW) burned while some members of government have dismissed the link between the fires and climate change.
During a 30 minute interview with the Australian Broadcasting Corporation (ABC) on Sunday Morrison acknowledged that leaving the country during the crisis was a mistake.
"In hindsight, I would not have taken that trip knowing what I know now," he said.