Iran's COVID-19 cases rise to 70,029 with 1,837 new infections
People's Daily app
1586600565000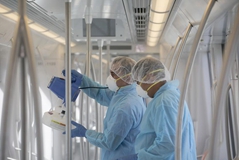 (Photo: Xinhua)
Cairo (People's Daily) - Iran had 1,837 new infections of COVID-19 and 125 new deaths during the past 24 hours, Iran's health ministry spokesman said on Saturday.
The number of confirmed cases has risen to 70,029, with the number of deaths at 4,357.
41,947 people have recovered, while 3,987 remain in serious and critical condition. There have been 251,703 tests done so far.