Chinese-Americans now the target after Trump's coronavirus diagnosis
Hostilities toward Chinese-Americans and attacks against Asian-Americans are piling up after U.S. President Trump's coronavirus diagnosis. The new study from the Anti-Defamation League (ADL) saw a dramatic spike in anti-Asian sentiment and conspiracy theories about the spread of coronavirus in conversations on Twitter and other social media platforms in the days immediately following Trump's tweet about his COVID-19 diagnosis on October 2.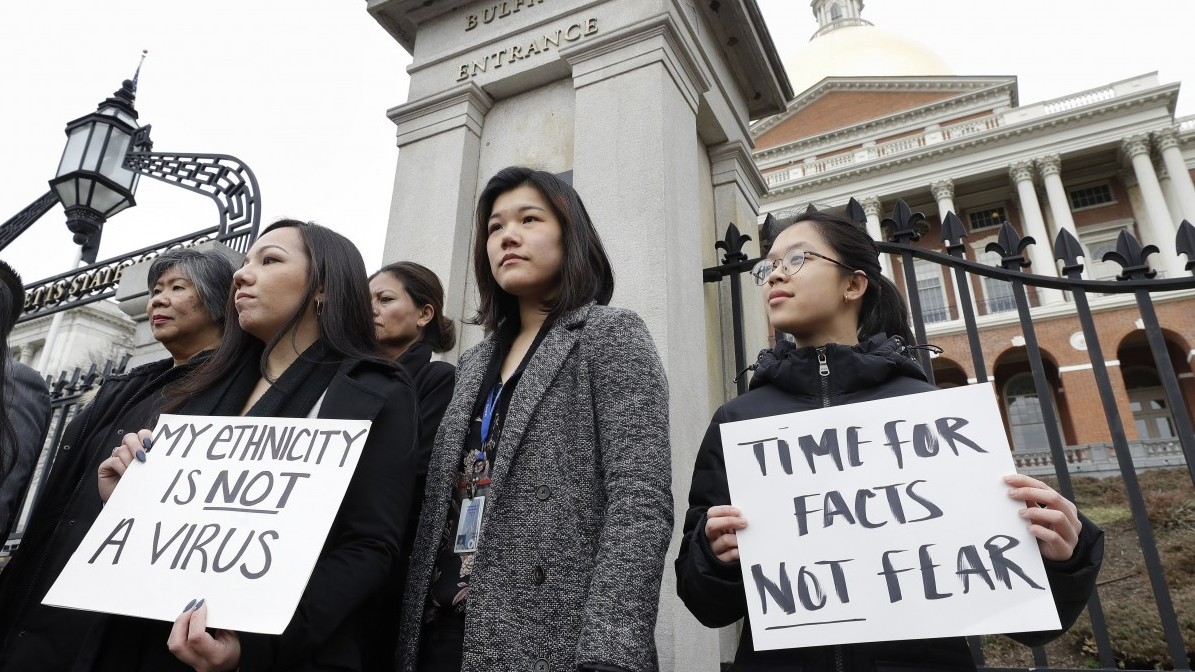 Demonstrators, including members of the Massachusetts Asian-American Commission, protest on March 12 at the statehouse against racism and fear-mongering aimed at Asian communities amid the coronavirus outbreak. /AP
The new study was conducted by ADL's Center for Technology and Society, which shows that in the 12 hours after Donald Trump's initial tweet about his COVID-19 diagnosis, there was an approximately 85 percent increase in anti-Asian language and conspiracy theories tracked on the platform. The announcement sparked thousands of online conversations blaming China for trying to purposefully infect the U.S. president, the researchers found.
A rise in discrimination against Asian-Americans in response to the tweet has triggered more risks for the broader community. An example shows that a pro-Trump former congressional candidate DeAnna Lorraine said that "China must pay for giving Trump COVID," and swore that "we will have justice."
"The level of hatred and vitriol that was aimed at Asian-Americans and Chinese people on social media is simply staggering," said Jonathan A. Greenblatt, ADL CEO. On the ADL website, he said the hate speech and stereotyping are irresponsible and can spillover into real world violence. With the alarming increase in physical attacks and hate crimes against Asian-Americans in recent months, it is clear that all leaders, including our president, need to stop blaming others for spreading the virus.
The anti-China rhetoric is used by Donald Trump and his supporters during the pandemic. /AP
The anti-China rhetoric used by Donald Trump and his supporters during the pandemic has left Asian-Americans, especially Chinese-Americans, vulnerable to racist attacks and shunning. As Washington Post said, fear, hatred and misinformation online has led to verbal assaults, boycotts of Asian businesses and sometimes violence. A coalition of Asian American groups, along with San Francisco State University, reported this summer that 2,120 hate incidents against Asian Americans have taken place since March this year.
On September 27, Tadataka Unno, a New York-based Japanese jazz pianist, was assaulted by eight teenagers at a subway station in New York. He heard them saying the word "Chinese" when they ran away. The suspects have not been arrested though. According to the New York Police Department, the 40-year-old suffered serious injuries, including a broken collarbone, which may end his performing career.
U.S. Democratic Representative Judy Chu of Pasadena, California, who chairs the Congressional Asian Pacific American Caucus, said at a press conference in response to the rise of hatred against Asian-Americans that the conspiracy theories of "China virus" were very ugly, and they also had anti-Semitic overtones which is very alarming because people have already seen a rise in anti-Asian hate crimes and incidents since January.
"Asian-Americans are just so anxious about this. They don't know what a stranger will say to them. And in fact, there are so many that have been the recipient of terrible remarks, insulting remarks sometimes said under the breath, sometimes said openly,"said Chu.
"In fact, the CDC and the World Health Organization have been very clear that one should not use the terms that associate such a disease with a place or an ethnicity because of the stigma and the hate that it can cause. And that's why they use the neutral term COVID-19. That is what Donald Trump should be doing. And that's what his followers should be saying."
U.S. House voted Thursday to condemn racism against Asian-Americans tied to the coronavirus outbreak, approving a Democratic resolution on a mostly party-line vote calling on all public officials to condemn anti-Asian sentiment and to investigate hate crimes after a rise in aggression and violence from those blaming people of Asian descent for the pandemic.