The latest: COVID-19 outbreak worldwide (Updated April 21)
People's Daily app
1587465080000
Globally, as of 2:00 am CEST on Monday, there have been 2,319,066 confirmed cases of COVID-19, including 157,970 deaths, reported to WHO.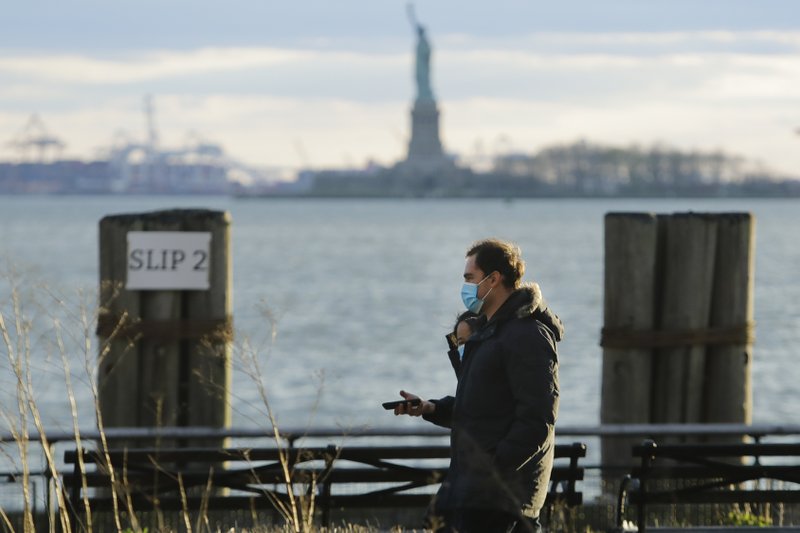 Pedestrians wear face masks while walking in Battery Park on Saturday, April 18, 2020, in the Manhattan borough of New York. (Photo: AP)
Current status (data as of 6:00 pm BJT, April 21):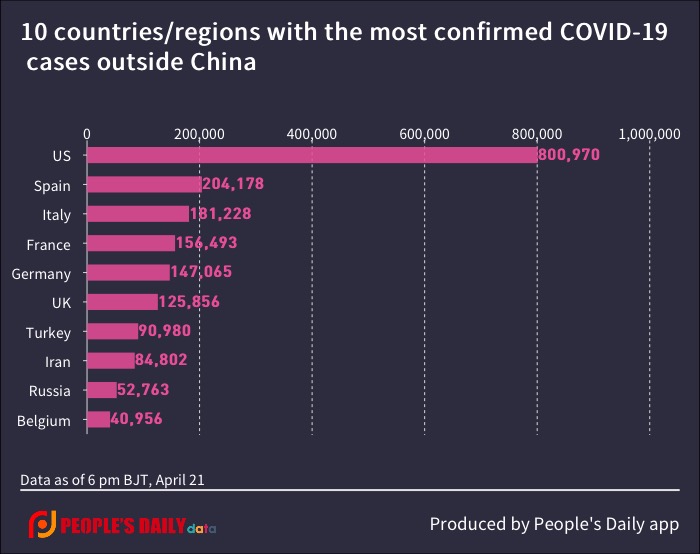 Sources: Xinhua, Johns Hopkins University, national public health agencies.
The outbreak has now claimed the lives of at least 42,970 people in the US, the most of any country. The US also leads the world in the number of infections with 800,970, according to a tally by Johns Hopkins University as of 6 pm BJT on Tuesday.
Spain is the next most-affected country with 21,282 fatalities from 204,178 confirmed infections, according to the country's health ministry.
The coronavirus pandemic has claimed 24,114 lives in locked-down Italy, bringing the total number of infections to 181,228 as of Monday, according to the latest data released by the country's Civil Protection Department.
France has registered 20,294 COVID-19 deaths since March 1, becoming the fourth country to surpass 20,000 COVID-19 deaths, Director-General of Health Jerome Salomon announced on Monday. Confirmed cases in France increased to 156,493, Johns Hopkins reported.
It is followed by Germany with 4,862 deaths from 147,065 infections.
The UK has recorded 125856 cases of COVID-19, with the death toll at 16,550, Johns Hopkins reported.
Turkey's total confirmed cases of COVID-19 have climbed to 90,980 with 4,674 new ones reported in the last 24 hours, Health Minister Fahrettin Koca said Monday. The death toll from the novel coronavirus in Turkey reached 2,140 after 123 more lost their lives over the past 24 hours, Koca tweeted.
Iran registered 1,297 new COVID-19 cases over the past 24 hours, bringing the total number of infections to 84,802, according to Iran's Health Ministry on Monday.
Russia reported a total of 52,763 COVID-19 cases and 456 deaths, according to the Johns Hopkins University.
Confirmed cases of COVID-19 in Belgium increased to 40,956 with 5,998 deaths, Johns Hopkins reported.