Countries deny joining Clean Network program, claim US unilaterally put them on list: source
Global Times
1599620133000
Facts prove that the US intention to contain China in the internet space has not been welcomed, as many of the countries that Washington claimed had joined its Clean Network program have denied being part of it, saying the US had unilaterally put their names on the list, the Global Times has learned.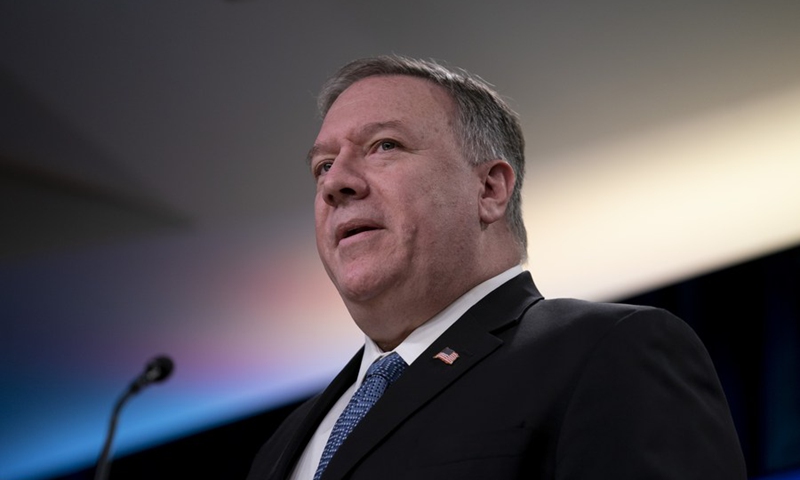 US Secretary of State Mike Pompeo (File photo: Xinhua)
The US claimed that at least 30 countries and regions had joined its Clean Network plan, including United Kingdom, Czech Republic, Poland, Sweden, Estonia, Romania, Denmark, and Latvia.
However, according to a source close to the matter, many of the countries denied that they had joined the program, but were nonetheless included by the US in the list, which experts said was aimed at building momentum for its so-called Clean Network plan.
It is a very dirty trick to lure other countries into the plan, experts said.
China will launch a global data security initiative that can serve as a global standard for data security, Chinese State Councilor and Foreign Minister Wang Yi said via video at an international seminar on "Seizing digital opportunities for cooperation and development" on Tuesday in Beijing.
In his keynote speech, Wang also noted that China has not asked and will not ask Chinese companies to transfer overseas data to the Chinese government in breach of other countries' laws. Wang said China's initiative includes eight proposals. China suggests that states handle data security in a comprehensive, objective and evidence-based manner, and opposes ICT (information and communications technology) activities that use data to conduct activities that undermine other states' national security and interests.