German envoy reaffirms support for two-state solution to Israeli-Palestinian conflict
UNITED NATIONS, July 23 (Xinhua) - A German envoy on Tuesday reaffirmed his country's support for the two-state solution to the Israeli-Palestinian conflict.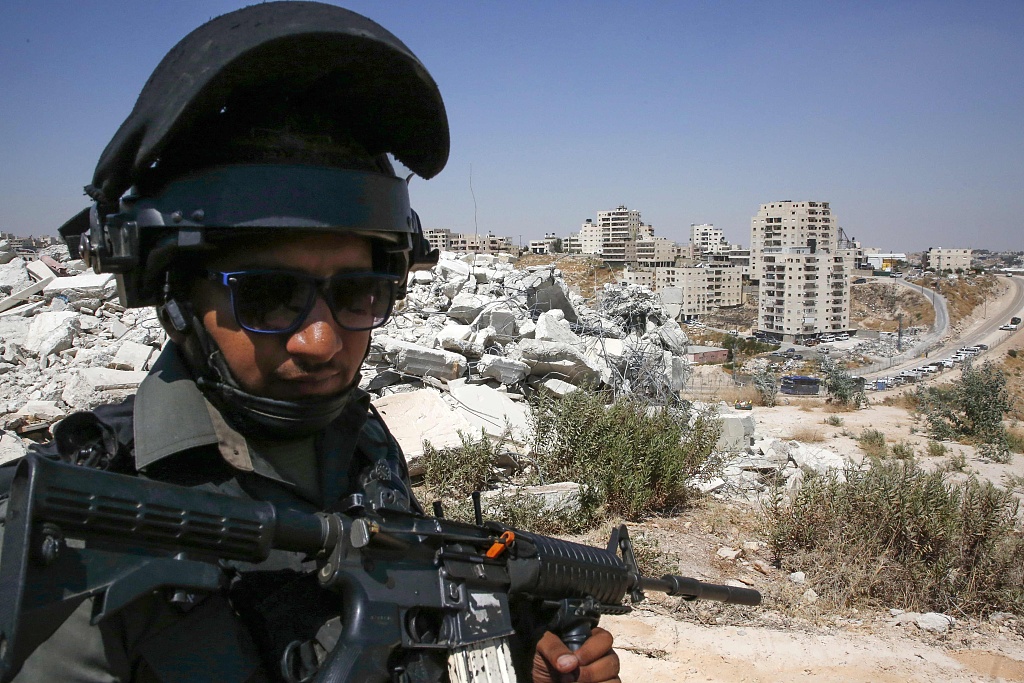 A member of the Israeli border police stands guard in front of buildings demolished by Israel in the West Bank village of Dar Salah in the area of Sur Bahir east jerusalem, on July 22, 2019. (Photo: VCG)
"The Israeli-Palestinian conflict is a political conflict that can only be resolved through a political solution," said German UN ambassador Christoph Heusgen at the UN Security Council meeting on the situation in the Middle East, reaffirming his country's support for "the two-state solution based on international parameters and Council resolutions."
Turning to the representative of the United States also present at the Council chamber, he said that, for Germany, international law "is relevant, not futile."
He said Germany participated in the Bahrain workshop because of its interest in sensible measures that promote peace and boost the economy. "However, prosperity will be elusive if it is not firmly embedded in a political framework."
The Bahrain workshop refers to the workshop organized by the U.S. administration in Bahrain last month to discuss the economic aspects of Washington's plan to solve the Palestinian-Israeli conflict, known as the "Deal of the Century."
Heusgen also called on Israel to halt settlement activity, condemned attacks on Israel by Hamas and other groups and described UNWRA (United Nations Relief and Works Agency for Palestine Refugees in the Near East) as indispensable for meeting the basic needs of Palestinian refugees.