The latest: COVID-19 outbreak worldwide (Updated May 21)
People's Daily app
1590052016000
Globally, as of 7:16pm CEST on Wednesday, there have been 4,864,881 confirmed cases of COVID-19, including 321,818 deaths, reported to WHO.
A man who lost his job during the COVID-19 pandemic, disinfects a car as a preventive measure against the spread of the new coronavirus in Bogota, on May 20, 2020. (Photo: AFP)
Current status (data as of 5:00 pm BJT, May 21):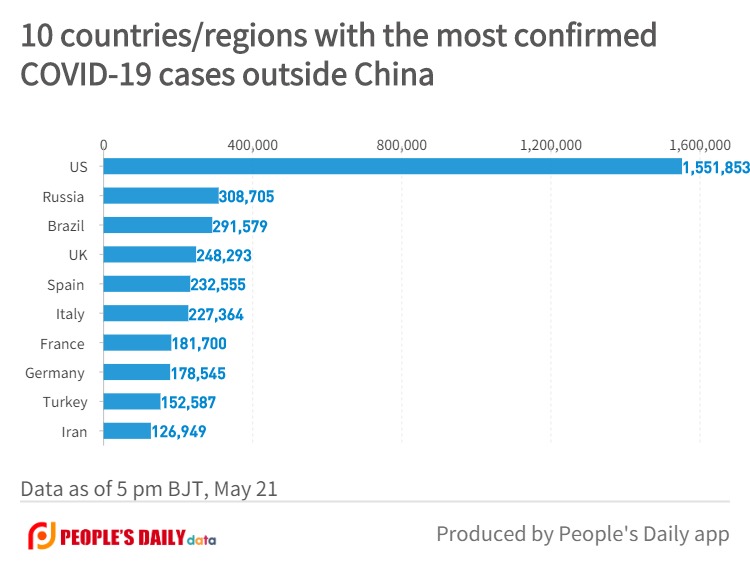 Sources: Xinhua, Johns Hopkins University, national public health agencies.
The outbreak has now claimed the lives of at least 93,439 people in the US, the most of any country. The US also leads the world in the number of confirmed infections with 1,551,853, according to a tally by Johns Hopkins University as of 3:32 pm BJT on Thursday.
Russia on Wednesday reported its highest ever daily coronavirus death toll of 135, bringing the country's total fatalities to nearly 3,000. The official toll now stands at 2,972, with 308,705 cases recorded.
Confirmed cases of COVID-19 in Brazil have increased to 291,579 with 18,859 deaths.
Another 363 COVID-19 patients have died in the UK as of Tuesday afternoon, bringing the total coronavirus-related death toll in the country to 35,704, Culture Secretary Oliver Dowden said Wednesday. As of Wednesday morning, 248,293 people have tested positive for the disease, marking a 2,472 daily increase, the secretary said during the Downing Street briefing.
It is followed by Spain with 232,555 infections and 27,888 deaths, Italy with 227,364 cases and 32,330 deaths, France with 181,700 cases and 28,135 fatalities and Germany with 178,545 infections and 8,172 deaths.
The total number of COVID-19 cases in Turkey, the hardest-hit country in the Middle East, climbed to 152,587 after 972 new infections were reported, Turkish Health Minister Fahrettin Koca tweeted. The death toll from the coronavirus in the country rose to 4,222 after 23 more fatalities were added in the past 24 hours, he said.
In Iran, 2,346 new cases of the novel coronavirus were registered, bringing the tally to 126,949. The country also reported 64 new deaths from the virus on Wednesday, raising the death toll to 7,183.