Inflow to Sydney drinking water supply at lowest level ever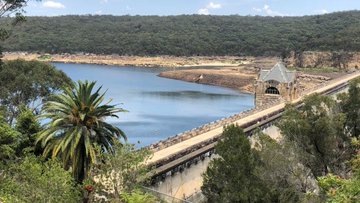 File photo
SYDNEY, Jan. 13 (Xinhua) -- Locked in drought and coming off Australia's hottest, driest year on record, inflows into the Warragamba Dam, a reservoir which stores around 80 percent of Sydney's drinking water, are now at an all time low.
According to Water NSW (New South Wales State), the previous lowest water intake occurred between 1939 with 1941 when similar dry conditions saw 628 billion liters flow in from surrounding catchments.
Over the past 33 months however, there has been just 281 billion liters of inflow.
As a result, storage at the Warragamba Dam has fallen by around one third and is now 42.9 percent full.
In order to combat the Harbor City's dwindling water supply issue, the State Government introduced Level 2 water restrictions on December 10.
"The community has responded well to restrictions, which, coupled with a public awareness campaign has resulted in an average 10.2 percent reduction in water consumption," a spokeswoman for Sydney Water told the Sydney Morning Herald on Monday.
"However, there is no room for complacency. If everyone makes a few small changes to how they use water, we'll collectively make a big difference."
On top of this, the state government has also announced plans to double the capacity of Sydney's desalination plant which has been operating at full capacity since July.
While the development is still yet to be approved, NSW Premier Gladys Berejiklian said the process will be fast-tracked.