US Jury to hear closing arguments of sentencing phase in slaying Chinese student
PEORIA, United States, July 17 (Xinhua) -- After a U.S. judge concludes all the evidence from the sentencing phase in the Chinese scholar slaying trial Tuesday, closing arguments from both prosecutors and the defense started here Wednesday morning.
The closing arguments of the sentencing phase for Brendt Christensen who was found guilty of killing Zhang Yingying in 2017 took place around 9 a.m.(1400 GMT) at a federal court of Peoria, in the U.S. state of Illinois.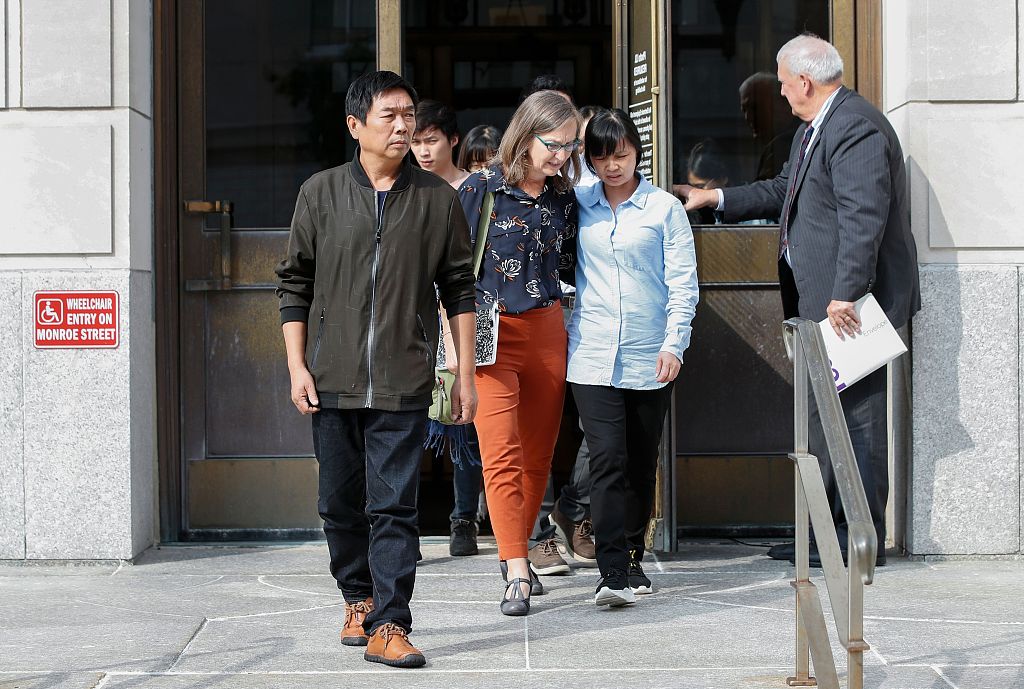 Father Ronggao Zhang (L), and mother Lifeng Ye (2R) of Yingying Zhang leave the US Courthouse after the first day of sentencing of Brendt Christensen in the 2017 disappearance and killing of Yingying Zhang, a visiting scholar from China whose body has not been found, on July 8, 2019 in Peoria, Illinois. (Photo: VCG)
After that, jurors in the capital trial of Christensen will begin deliberating over his appropriate sentence: life in prison or death. It may take several hours or even one to two weeks for the jury to make the final decision.
The jury last month unanimously ruled that Christensen was guilty of all three counts of charge against him, namely, kidnapping resulting in the death of Zhang Yingying in 2017; and two counts of making false statements to the Federal Bureau of Investigation (FBI).
The 26-year-old Chinese scholar went missing on June 9, 2017, after getting into a black Saturn Astra about five blocks away from where she got off a bus on her way to an apartment complex to sign a lease.
Christensen was arrested on June 30, 2017, after being caught on tape pointing out people he described as "ideal victims" during a vigil in Zhang's honor.