Raging wildfires scorch US West Coast, killing at least nine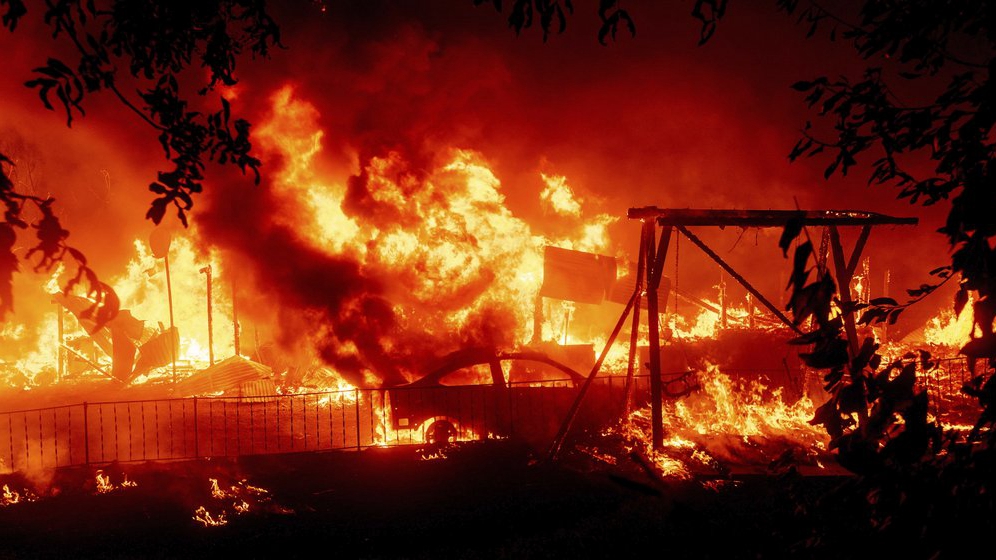 Flames consume a home and car as the Bear Fire burns through the Berry Creek area of Butte County, California, U.S., September 9, 2020. /AP
Dozens of extreme wind-driven wildfires burned through forests and towns in U.S. West Coast states on Thursday, destroying hundreds of homes and killing at least nine people, authorities said.
In the past 48 hours, four people died from fires in California, while four were killed in Oregon and a one-year-old boy died in Washington state, police reported. Officials say some areas are still impossible to reach, meaning the death toll is likely to rise.
In Oregon, where at least five towns have been "substantially destroyed" and up to 40,000 people evacuated, governor Kate Brown said twice the state's annual average had burned in just the past 72 hours.
"We have never seen this amount of uncontained fire across the state," Brown told a news conference.
In eastern Washington state a fire destroyed most of the farming town of Malden.
All three West Coast states have been scrambling to contain rapidly spreading wildfires since the weekend due to unprecedented heatwaves followed by intense, dry winds.
Among those killed in the past day was a one-year-old boy who perished while his parents suffered severe burns as they attempted to flee an inferno 130 miles east of Seattle.
"This child's family and community will never be the same," said Washington governor Jay Inslee, in a statement on his state's first fire death of 2020.
"And neither will countless others who are reeling from the utter devastation these wildfires are leaving in their wake."
California and Washington fires
In California, officials said some 64,000 people were under evacuation orders while crews battled 29 major fires across portions of the most populous U.S. state.
About a third of those evacuees were displaced in Butte County alone, north of the capital Sacramento, where the North Complex wildfire has scorched more than 247,000 acres and destroyed over 2,000 homes and structures.
The remains of three victims were found in two separate locations of that fire zone, according to Butte County Sheriff Kory Honea, bringing the total death toll from this summer's devastating spate of California wildfires to at least 11.
Another person died in Siskiyou County in Northern California, state fire authority Cal Fire reported, providing no further details.
Wildfires have now burned over 3.1 million acres in California in 2020, marking a record for any year, with six of the top 20 largest wildfires in state history occurring in 2020.
(With input from agencies)