Iran denies failure of satellite launch
Iran's Minister of Information and Communications Technology, Mohammad Javad Azari Jahromi, on Saturday denied western reports that Iran has failed to launch its satellite into orbit over the past days, Press TV reported.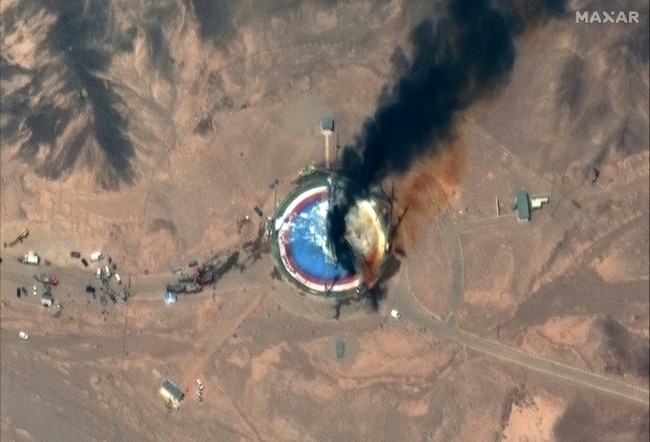 This handout image shows close up view of a satellite image collected on August 29 of failed rocket launch at the Imam Khomeini Space Center in Iran. (Photo: AFP)
Azari Jahromi on Saturday invited reporters to the Iranian space research center to show that the domestically-made Nahid 1 telecommunication satellite, which was expected to be launched into orbit, has not been damaged.

On Friday, Trump tweeted that "the United States of America was not involved in the catastrophic accident during final launch preparations for the Safir SLV Launch at Semnan Launch Site One in Iran. I wish Iran best wishes and good luck in determining what happened at Site One."
Azari Jahromi did not elaborate specifically on Trump's claim on the Safir SLV Launch, but he noted that "Frankly, Nahid 1 is doing well, is in the laboratory, and reporters can come visit."
Last week, Iranian officials announced that Iran would launch three satellites into orbit by the end of this year. The satellites are Nahid 1, as well as Zafar and Pars 1 sensing satellites.
Iran launched its first satellite, Omid (Hope), in 2009. The country also sent its first bio-capsule containing living creatures into space in February 2010, using Kavoshgar (Explorer)-3 carrier.
In February 2015, Iran put its Fajr (Dawn) satellite into orbit, which is capable of taking and transmitting high-quality photos back.
In January 2019, the domestically-built Payam (Message) satellite was launched into space with an aim to collect environmental information; however, technical problems that occurred during the final stage of the launch prevented the spacecraft from reaching orbit.