Protests erupt in Madagascar over alleged police violence
People's Daily
1591408087000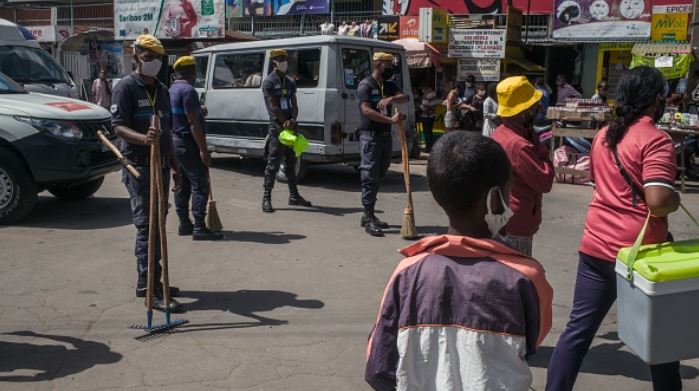 Police officers patrol and search for possible lawbreakers, in downtown Antananarivo, Madagascar. (File photo: Getty Images)
Clashes erupted between Madagascar's security forces and protesters on Wednesday after citizens took to the streets in the eastern town of Toamasina to condemn anti-coronavirus lockdown measures.
The tension was sparked after a street vendor was allegedly beaten by a police officer for apparently violating a ban on commercial activities in the afternoon.
The police have denied perpetrating any violence and instead allege that the street vendor had returned home following a short visit to the hospital.
Protestors burnt tires, blocked roads and threw stones at security forces who, in turn, fired rubber bullets. The protestors claimed that COVID-19 did not exist in the town and the state was manipulating them.
"We are going to show these soldiers from Antananarivo what we are made of," they said.
Prior to the clashes, residents took to social media to criticise President Andriy Rajoelina's decision to deploy soldiers and his response to the pandemic and demanded he resign within 12 hours.
Last month, the Madagascar government deployed soldiers and doctors to Toamasina following the discovery of several bodies in the streets.
The soldiers were sent with orders to ensure adherence to various health measures to contain the virus' spread and maintain order.
A team was also dispatched to distribute a drink, COVID-Organics, which Malagasy authorities purport can cure COVID-19.
Toamasina was one of three cities that went on lockdown towards the end of March to try and contain the spread of the deadly virus. The others were the capital Antananarivo and Fianarantsoa.
However, while Toamasina remains under lockdown, restrictions in the other two cities have been gradually lifted.
Madagascar has registered 957 confirmed COVID-19 cases and seven deaths, as of June 4, according to the Africa CDC.