US says open for diplomacy with Iran as Zarif challenges Trump
People's Daily
1591427839000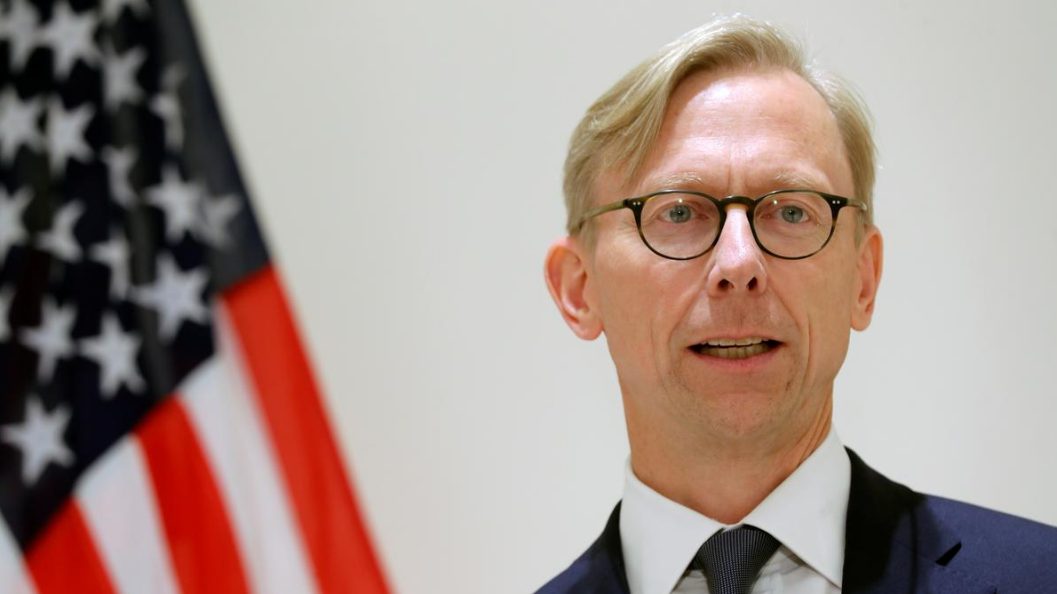 Brian Hook, U.S. special representative for Iran, speaks at a news conference in London, the UK, June 28, 2019. (Photo: CGTN)
The door remains open for a wider negotiation with Iran about its nuclear program and other issues, but so far talks have been limited to prisoner releases, U.S. Special Representative for Iran Brian Hook said on Friday.
"(U.S. President Donald Trump) has had the door open to diplomacy for many years and in the same time frame, he has met (DPRK leader) Kim Jong Un three times. So, we would like to see the (Iranian) regime meet our diplomacy with diplomacy," he told reporters a day after Iran freed U.S. citizen Michael White.
A glimmer of hope for Iran and the U.S. to amend ties has resurfaced after what appears to be a tacit prisoner exchange took place. On Wednesday, an Iranian materials science professor returned home after being acquitted of stealing trade secrets in the United States. This was followed by the release of Michael White, an American who was sentenced to 13 years in Iranian prison for violating privacy and insulting Iran's supreme leader. White departed Iran later this week after being released temporarily on medical grounds to the Swiss embassy in March.
In a post on Instagram on Tuesday, Iranian Foreign Minister Mohammad Javad Zarif welcomed what he described as the "good news" of Asgari's return on a flight to Iran, but accused the U.S. of holding "hostage" several other Iranian scientists.
While both countries denied the releases were part of a prisoner exchange, Trump has hinted about the possibility of a deal with Iran and expressed gratitude towards the country's release of White.
"...Thank you to Iran. Don't wait until after U.S. election to make the Big deal," Trump said in a tweet.
In a tweet on Friday, Zarif responded to Trump's message by challenging him to return to the nuclear deal that Washington abandoned two years ago. He made clear that it was Trump's advisors who should be blamed for withdrawing from the deal.
"We achieved humanitarian swap despite your subordinates' efforts," Zarif said on Twitter, it is "up to you to decide when you want to fix (the dumb bet that your advisors have made)."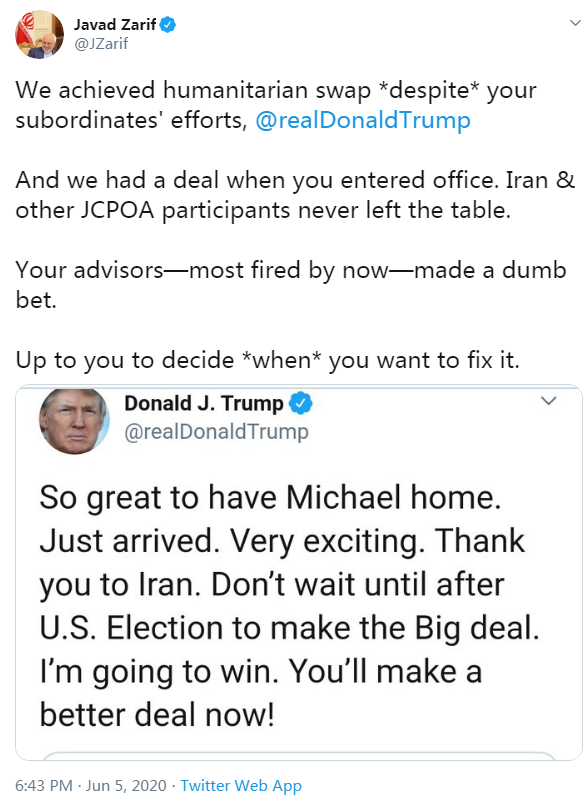 Also on Friday, Iranian Foreign Ministry spokesman Abbas Mousavi confirmed that Zarif met Bill Richardson, a former U.S. envoy to the United Nations, "months ago" over prisoner releases.
"We have always responded positively to humanitarian efforts that would lead to the release of Iranian hostages in the United States and elsewhere," Mousavi told the official IRNA news agency.
At least five other American citizens are currently imprisoned or out on a bail in Iran, while several dozen Iranians are being held in U.S. prisons, many of them for breaking sanctions.
Hook said U.S.-Iranian negotiations have so far not gone beyond discussing the mutual release of prisoners to such issues as Iran's nuclear program. He also said the number of U.S. citizens wrongly detained abroad who will be released will grow, but provided no details on when or where that might happen.
The U.S. official reiterated an appeal for Iran to release American citizens Baquer Namazi, his son Siamak Namazi and conservationist Morad Tahbaz. He specifically asked for the latter two to be furloughed from prison on medical grounds.
Hook also said Washington plans to stick to its policy of harsh economic sanctions on Tehran in an effort to bring it to the negotiating table on issues such as its nuclear program, saying "timidity and weakness invites more Iranian aggression."
"We refuse to play by that rule book. When you play under house rules, the house always wins," Hook said. "So we are going to continue with our policy."
In December, the two countries made a prisoner swap in a rare instance of cooperation. Chinese-American researcher Xiyue Wang and Iranian scientist Massoud Soleimani were freed. But tensions have escalated sharply since January when the U.S. killed major Iranian commander Qasem Soleimani in a drone strike.