States should put people's life and health first in time of COVID-19: Chinese diplomat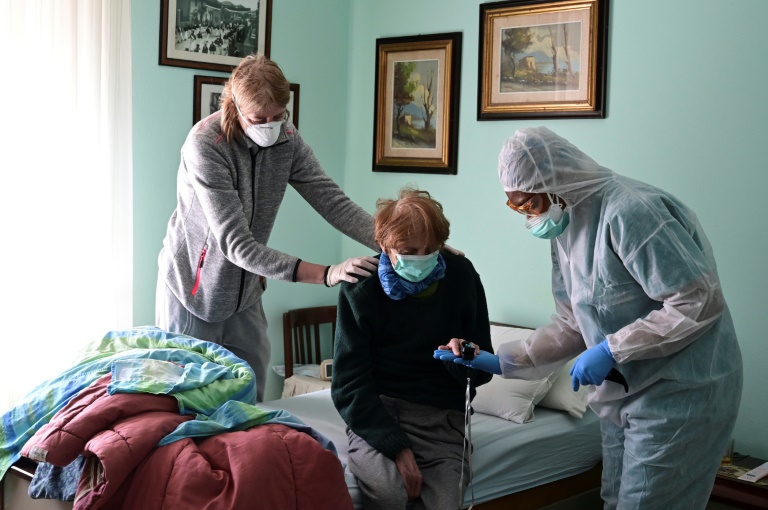 Sister Angel Bipendu, right, a nun and a doctor who distributes medical care alongside spiritual succor in Italy. (Photo: AFP)
GENEVA, April 9 (Xinhua) -- All countries should put people's life and health first to alleviate the impact of the COVID-19 outbreak on human rights, a senior Chinese diplomat said here on Thursday.
Speaking at the Virtual Informal Conversation with the UN High Commissioner for Human Rights on Outbreak of COVID-19 and its implications on human rights, Chen Xu, head of the Chinese Mission to UN Office at Geneva, said that nations should adopt effective and collective response for the real protection of people's right to life and right to health.
Noting that the international community should provide aid and support to developing countries in their response to the outbreak, he stressed that countries concerned should immediately lift unilateral sanctions they imposed on some developing countries to prevent additional harm to the people of those countries.
All countries should pay high attention to the challenge of the pandemic on economic and social development, and take effective measures to minimize its impact, Chen added.
"They should guarantee people's basic needs as well as their economic, social and cultural rights and right to development, and guarantee the rights of women, children, the disabled, the elderly, migrants and other vulnerable groups," said the Chinese diplomat.
Regarding the stigmatization and politicization of a public health issue, Chen said the virus is a common enemy for all mankind. It respects no borders and hurts all ethnic groups.
"Instigating racial discrimination and xenophobia, and creating divisions and confrontations deliberately should be abandoned," he noted.
China supports international organizations in playing active roles in international cooperation against the pandemic, with the World Health Organization playing the leading and coordinating role, Chen added.