Japan gives tourists web fast track to Shinkansen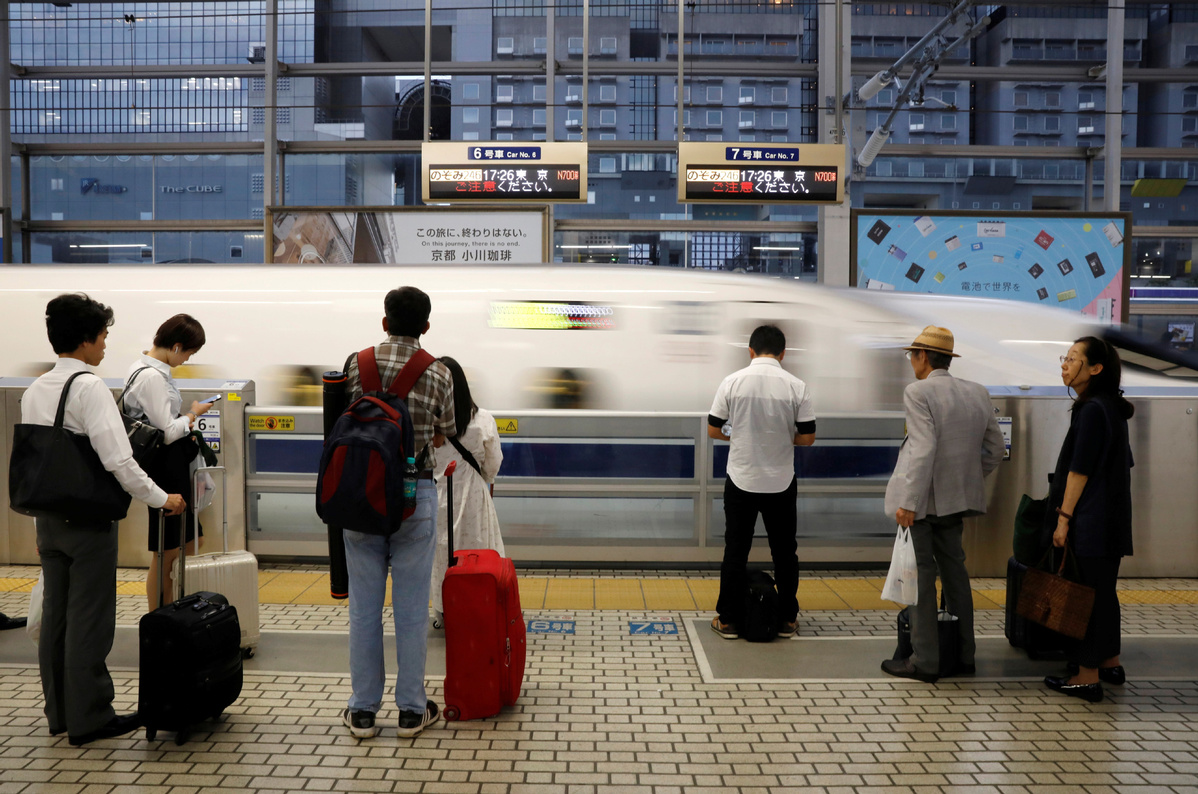 (File Photo: China Daily)
The operators of Japan's busiest rail line-connecting Tokyo, Kyoto, Osaka and Fukuoka-are gearing up to enable more foreigners to book tickets online ahead of an Olympics-driven tourism boom.
Central Japan Railway Co, or JR Central, and West Japan Railway Co, or JR West, which run the Tokaido-Sanyo Shinkansen line, will provide a website in March for those wanting to buy tickets from outside Japan.
The new service is in response to an expected surge in the number of tourists in the lead-up to the Olympic and Paralympic games in Tokyo this year, the rail companies said in statements on their websites.
"As the number of foreign tourists visiting Japan is expected to increase, we will start a new Web service that allows you to reserve seats before arriving in Japan," the statement on JR West's website said.
According to the statements, the English-language reservation website will allow people across the world to book tickets for the Shinkansen-or bullet train-services before arriving in Japan.
Visitors now must wait until they arrive in Japan or use a smartphone application to book if they are in eight countries, including Australia, Singapore, Thailand and the United States.
After the website is launched, customers can collect their purchased tickets at ticketing machines in any railway station in Japan, or they can load them onto Japanese transport applications on their phones to use them in the same way they would normal tickets.
A JR Central spokesman said that, in preparing to launch the website, the company was encouraged by the huge popularity of the booking application for overseas users.
Kotaro Toriumi, an aviation and travel sector analyst at Teikyo University in Tokyo, said that by allowing more foreigners to buy tickets without going to stations, the website would facilitate the needs of tourists wanting to go to Kyoto or Hiroshima after visiting Tokyo.
"However, there are also some issues remain to be solved. One is you can only book a Shinkansen ticket one month before departure, which is not enough time for long-distance travelers. The other is, I wish the website would not just be in English but also support other languages like Chinese and Korean," Toriumi said.
Japan has enjoyed a surge in foreign visitors in recent years, with their ranks reaching a high of 31.19 million in 2018. Japan's National Tourism Organization has drawn up ambitious plans to boost the number of arrivals to 40 million this year.