South Korea to temporarily extend military pact with Japan
South Korea said it will conditionally suspend the expiry of the military intelligence-sharing agreement with Japan, a Blue House spokesperson announced at a presser on Friday, hours before the pact's planned expiration at midnight.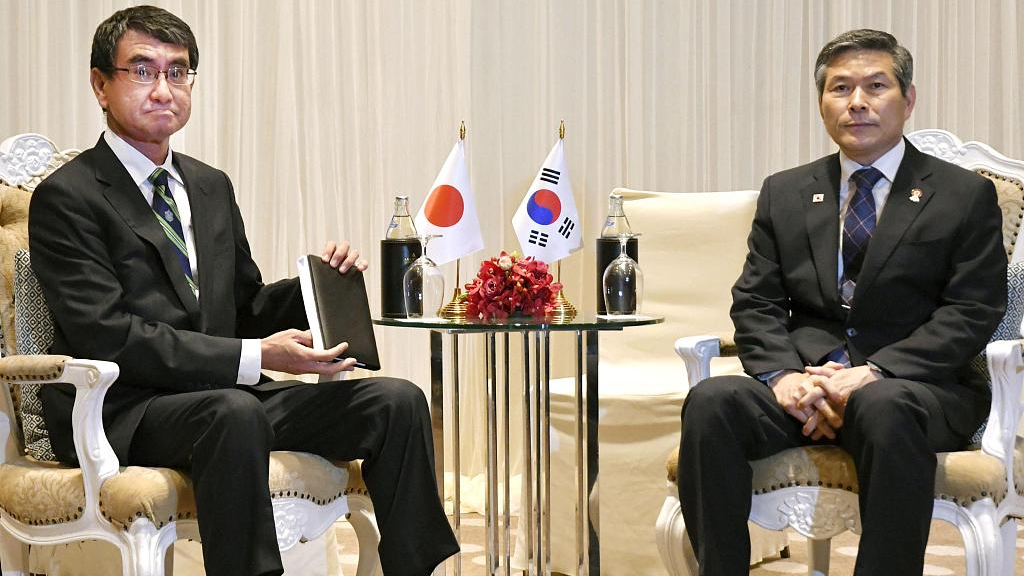 Japanese Defense Minister Taro Kono (L) and his South Korean counterpart Jeong Kyeong Doo meet in Bangkok on Nov. 17, 2019. (Photo: VCG)
The General Security of Military Information Agreement (GSOMIA) between South Korea and Japan was signed in 2016 and has been automatically renewed each year in August.
Kim You-geun, a national security official at Seoul's presidential Blue House confirmed the temporary reprieve, saying Seoul can always terminate GSOMIA when it wants to and the Japanese government has expressed their understanding of the decision.
The pact aims to share military intelligence on nuclear and missile programs of the Democratic People's Republic of Korea (DPRK).
In August this year, South Korea said it has decided to scrap the pact amid the trade spat between the two countries.
The pact stood as a major token of South Korea and Japan's cooperation in the field of security, and it has allowed the two countries to pass intelligence without going through the U.S.
On Thursday, U.S. Secretary of State Mike Pompeo and South Korean Foreign Minister Kang Kyung-wha pledged to maintain close coordination and reaffirmed the importance of the South Korea-Japan relationship, according to U.S. Department of State statement.