Xi meets S. Korean President Yoon Suk-yeol
BALI, Indonesia, Nov. 15 (Xinhua) -- Chinese President Xi Jinping met with South Korean President Yoon Suk-yeol here Tuesday afternoon.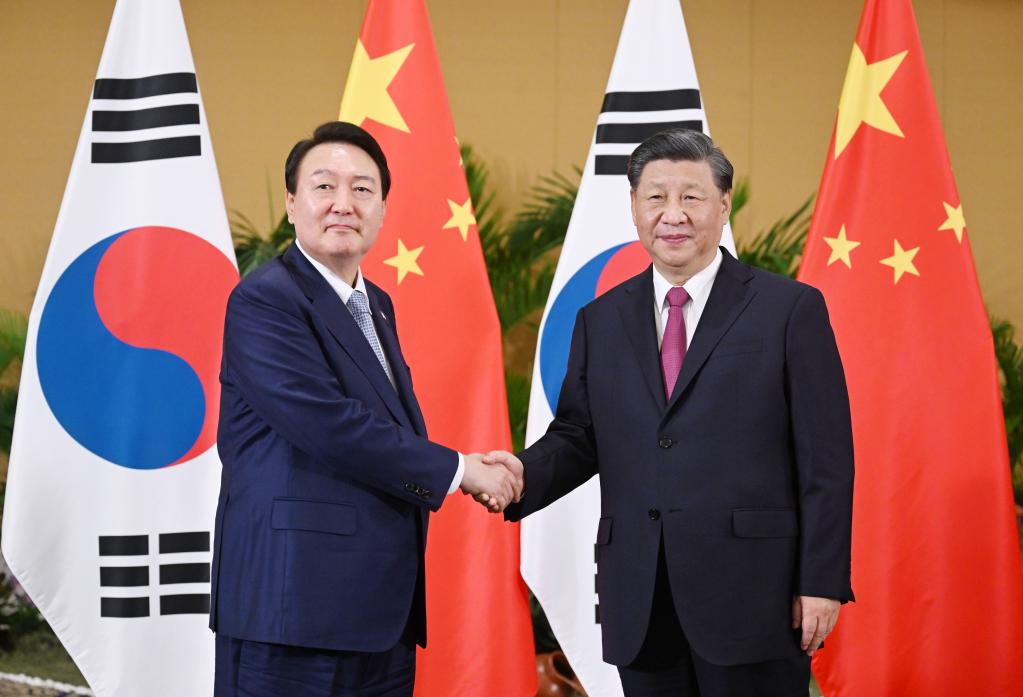 Xi pointed out that China and South Korea are close neighbors that will always live next to each other and cooperation partners that cannot be separated.
The two countries shoulder important responsibilities in maintaining peace of the region and promoting prosperity of the world, and they also have broad converging interests, he said.
Noting that this year marks the 30th anniversary of the establishment of diplomatic ties between China and South Korea, Xi said the history of the past 30 years shows that the sound and steady development of China-South Korea relations serves the fundamental interests of their people.
China is ready to work with South Korea to uphold, consolidate and advance bilateral relations and to provide greater stability for the region and the world, Xi said.
Xi stressed the need for the two sides to increase strategic communication and political mutual trust, adding that with their economies highly complementary, China and South Korea need to enhance alignment of development strategies and work for common development and prosperity.
The two sides need to accelerate negotiations on a bilateral Free Trade Agreement, deepen cooperation in such areas as high-tech manufacturing, big data and green economy, jointly uphold the international free trade system, keep the global industrial and supply chains secure, stable and unclogged, and oppose politicizing economic cooperation or overstretching the concept of security on such cooperation, he said.
China is ready to work with South Korea to promote cultural exchanges and cooperation, scale up communication and coordination at the G20 and other fora, jointly practice true multilateralism and safeguard overall peace and stability in the region, he added.
For his part, Yoon said the South Korean side is willing to take the 30th anniversary of the establishment of diplomatic ties this year as an opportunity to work with China for a mature relationship based on mutual respect and mutual benefit, which is in the common interests of both countries.
South Korea, he said, hopes to maintain interactions with China on various levels, step up people-to-people exchanges, enhance friendship between their people, uphold the free trade system and jointly tackle global challenges.
Ding Xuexiang, Wang Yi and He Lifeng were present at the meeting. ■