Trump says Pompeo right to make staffer walk dog, fires IG
U.S. President Donald Trump on Monday defended Secretary of State Mike Pompeo against allegations he had a staffer walk his dog, saying the top U.S. diplomat may have been busy negotiating with the Democratic People's Republic of Korea (DPRK) leader Kim Jong Un.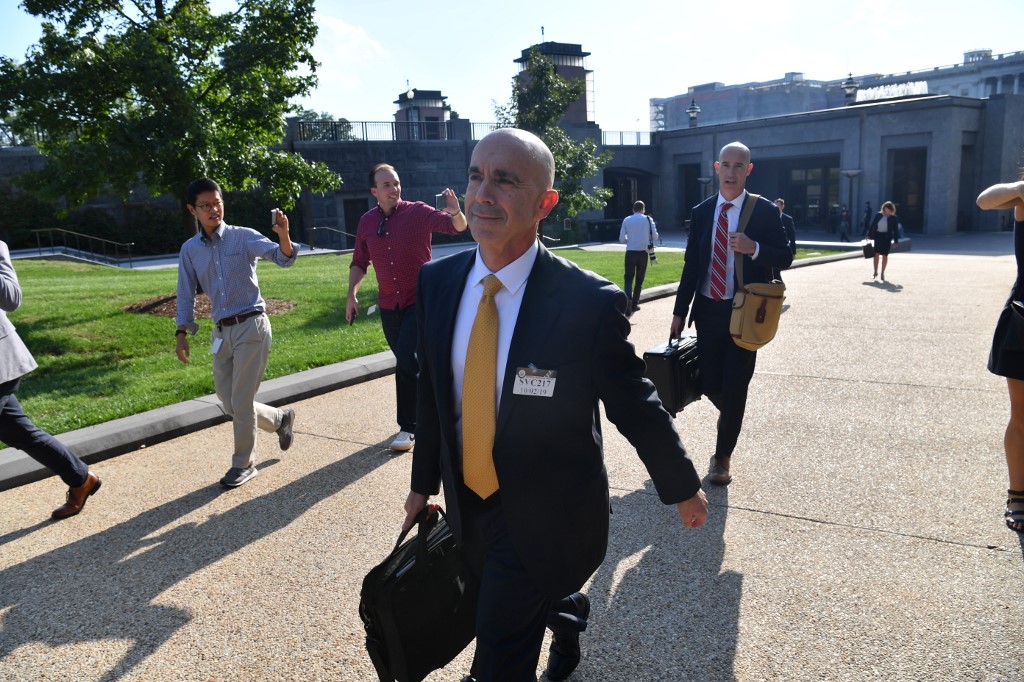 In this file photo taken on October 2, 2019 US State Department inspector general Steve Linick leaves after holding a briefing with lawmakers on Capitol Hill in Washington, DC. (Photo: AFP)
Democratic lawmakers said on Monday Trump might have fired the State Department Inspector General (IG) Steve Linick, because he was investigating U.S. military sales to Saudi Arabia. Congressional aides have also said Linick was probing whether Pompeo misused a taxpayer-funded political appointee to perform personal tasks for himself and his wife, such as walking their dog.
Trump fired Steve Linick on Friday.
On Monday, he told reporters that he didn't know anything about the investigation.
"You mean he's under investigation because he had somebody walk his dog from the government? I don't know. I don't think it sounds like that important," Trump said during a roundtable with restaurant executives at the White House.
"But this is what you get with the Democrats. Here's a man supposed to be negotiating war and peace with major, major countries with weaponry like the world has never seen before. And the Democrats and the fake news media, they're interested in that man who's walking their dog?" he said, suggesting that his opponents were making a big deal out of nothing.
"And maybe he's busy. And maybe he's negotiating with Kim Jong Un. Okay? About nuclear weapons. So that he'd say, 'Please, could you walk my dog? Do you mind walking my dog? I'm talking to Kim Jong Un. Please walk my dog,'" Trump continued.
"I think this country has a long way to go," he added. "Their priorities are really screwed up when I read this."
Trump said he would prefer his secretary of state to focus on his job rather than menial tasks.
"I'd rather have him on the phone with some world leader than have him wash dishes, because maybe his wife isn't there, or his kids," Trump said about the top U.S. diplomat. "It's terrible. It's so stupid. You know how stupid that sounds to the world? Unbelievable."
Pompeo on Monday said that he asked Trump to remove Linick because the independent watchdog was "undermining" the department and wasn't performing in a way that the top U.S. diplomat wanted him to.
"I went to the President and made clear to him that Inspector General Linick wasn't performing a function in a way that we had tried to get him to, that was additive for the State Department, very consistent with what the statute says he's supposed to be doing," he told The Washington Post in his first public comments on the matter. "The kinds of activities he's supposed to undertake to make us better, to improve us."
A State Department spokesperson said Friday that former career foreign service officer Stephen Akard, an ally of Vice President Mike Pence, would take on the role of inspector general, pointing out in a statement that he had been confirmed by the Senate in September 2019 to lead the Office of Foreign Missions, CNN reported.