World offers China help against novel coronavirus
Help has been pouring in from around the world as the novel coronavirus spreads from Wuhan, central China's Hubei Province, where the outbreak began.

UN stands ready to provide support
UN Secretary-General Antonio Guterres on Monday said the UN appreciates China's efforts in battling the novel coronavirus outbreak and has full confidence in its ability in controlling it, adding that the UN stands ready to provide support and assistance.
He made the remarks in a meeting with China's Permanent Representative to the UN Zhang Jun.
Trump: US will offer 'any help that is necessary'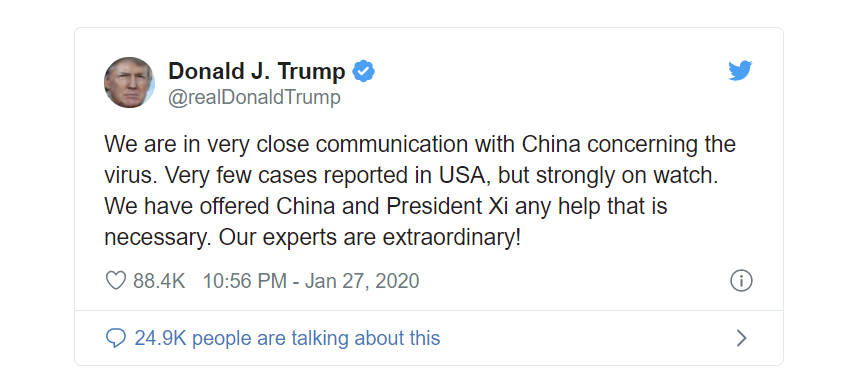 Screenshot from US President Donald Trump's Twitter account
US President Donald Trump said that his country will offer China "any help that is necessary" on Monday to control the coronavirus outbreak in the city of Wuhan. "We are in very close communication with China," he tweeted.
Meanwhile, the US State Department raised its travel advisory level from Level 2: Exercise Increased Caution to Level 3: Reconsider Travel due to the novel coronavirus. "Chinese authorities have imposed strict travel restrictions in the area around Wuhan. Travelers should be aware that the Chinese government could prevent them from entering or exiting parts of Hubei province," said a statement from US Department of State.
The State Department has arranged a flight for non-emergency personnel and their families to leave Wuhan. A State Department official said Monday that the flight would depart Wednesday morning, local time, and would travel to Ontario, California.
Boarding priority has been given to US citizens most vulnerable to the virus, according to the State Department spokesperson.
Chinese Foreign Ministry spokesperson Hua Chunying said on Sunday that China has made relevant arrangements and assistance for the US to withdraw its diplomats and citizens from Wuhan.
Japan: A friend in need is a friend indeed
Japanese Foreign Minister Toshimitsu Motegi said that a friend in need is a friend indeed, adding that Japan stands ready to work with China to deal with the threat of the outbreak and provide all-round support and assistance to China.
One million masks donated by the Japanese people have arrived in China's southwestern city of Chengdu and were rushed to Wuhan, according to Sichuan Airlines.
Motegi said on Tuesday that the government will dispatch a chartered flight to Wuhan on Wednesday morning to evacuate Japanese nationals, bringing in it masks, protective suits, and other supporting materials. The plane will return to Haneda Airport in Tokyo the same day.
About 650 Japanese have expressed their desire to return to Japan, but only about 200 people will make that trip on Wednesday morning.
The government is making arrangements to send additional chartered flights to Wuhan.
Except for the US and Japan, France, South Korea and UK government, all said on Tuesday that they are working with China on possible evacuations of own citizens from Hubei Province in the next few days.
South Korea's government also plans to provide some 2 million masks and other medical relief items, including 200,000 items of protective clothing and goggles, when it sends those planes to China to help its efforts to fight the virus, the foreign ministry said.
WHO chief: WHO doesn't recommend the evacuation of nationals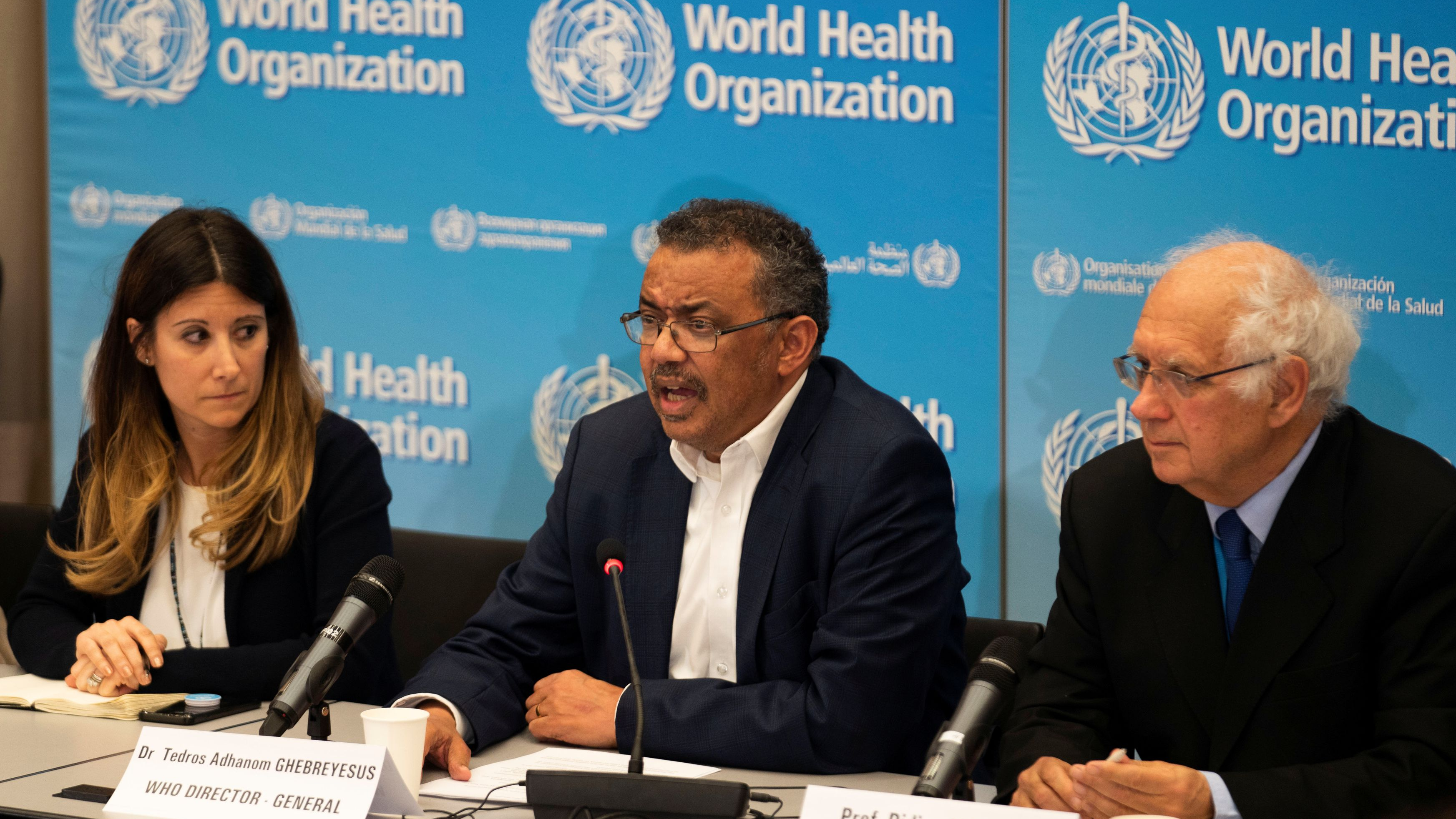 Officials from the WHO hold a news conference after convening an emergency committee of experts to assess whether the coronavirus outbreak in China constitutes an international emergency and make recommendations on how to prevent further spreading, Geneva, Switzerland, January 23, 2020. /Reuters Photo
World Health Organization (WHO) Director-General Tedros Adhanom Ghebreyesus has also arrived in China and met with Chinese State Councilor and Foreign Minister Wang Yi in Beijing on Tuesday.
He said the WHO does not recommend the evacuation of nationals and called on the international community to remain calm and not overreact. The WHO is confident in China's epidemic prevention and control ability.
Tedros also said the WHO and the international community speak highly of and fully affirm the decisive measures the Chinese government has taken, and appreciate China's great efforts in curbing the spread of pneumonia.