Police reveal 10 victims' names in Kyoto arson attack in Japan
TOKYO, Aug. 2 (Xinhua) -- Police on Friday announced some of the names of the victims in last month's arson attack at a Kyoto Animation Co. studio, including famous directors and a veteran animator.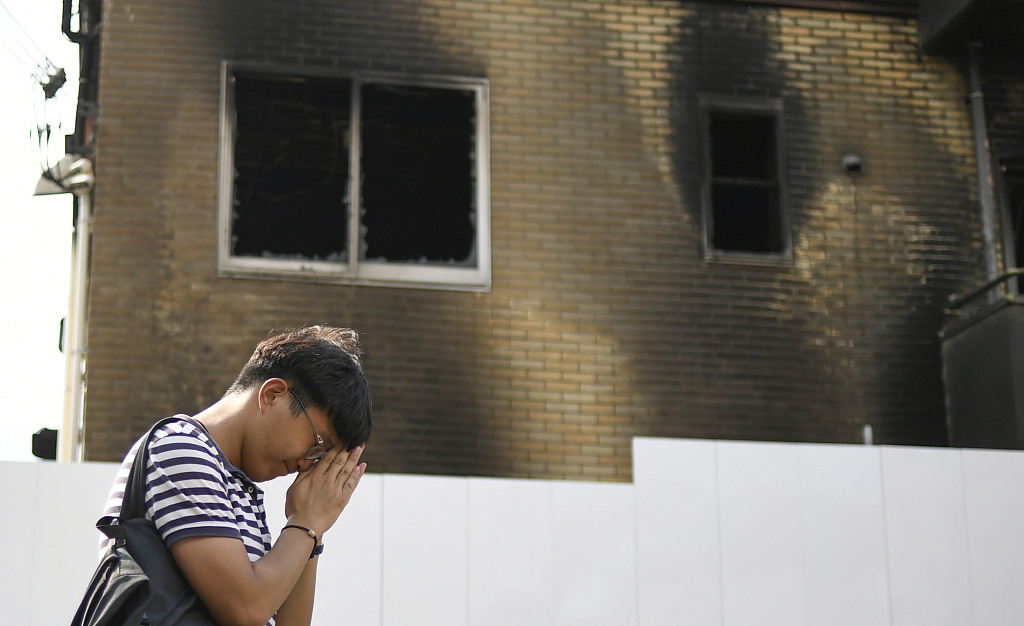 A man prays in front of the burnt-out, three-story studio of Kyoto Animation Co. in Kyoto on July 31, 2019, about two weeks after an arson attack that killed 35 people. (Photo: VCG)
After obtaining consent from the victims' families, the police announced 10 victims' names, including Yasuhiro Takemoto, 47, who was a widely praised director.
They also included 37-year-old Futoshi Nishiya, an animation director and 61-year-old animator Yoshiji Kigami.
The police said they waited for their families to come to terms with their deaths and arrange their funerals, before deciding upon the timing and ways of disclosing the identities of the victims.
The remaining seven whose names were announced are Junichi Uda, 34, Yuki Omura, 23, Yuka Kasama, 22, Ami Kuriki, 30, Sachie Tsuda, 41, Keisuke Yokota, 34, and Mikiko Watanabe, 35.
According to the police, all 35 victims have been identified using DNA analysis.
The police said they will continue to seek approval from the remaining victims' families to release their names.