Demonstrators demand Czech PM's resignation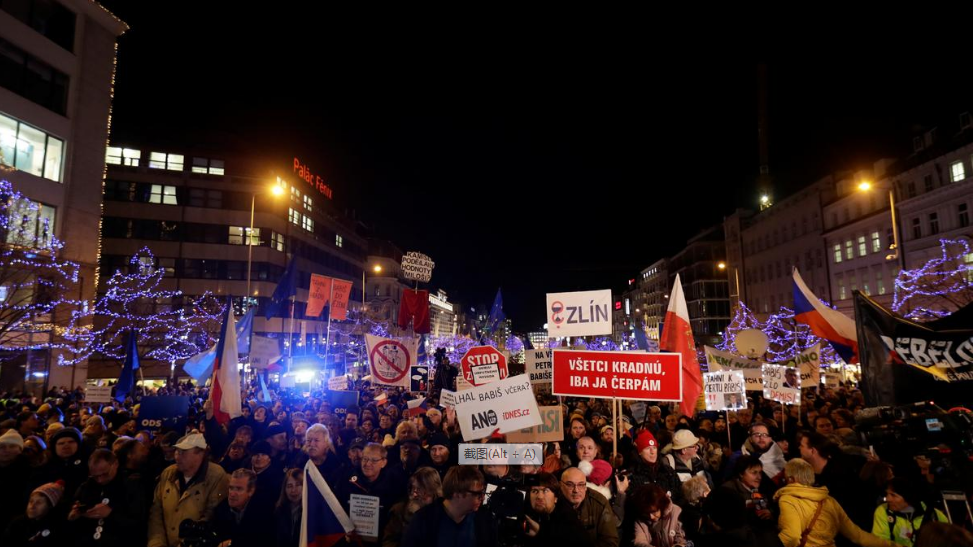 Photo: Demonstrators demand the resignation of Czech Prime Minister Andrej Babis, in Prague, Czech Republic, December 10, 2019. /Reuters
PRAGUE, Dec. 10 (Xinhua) -- A new round of protests were staged in Prague Tuesday demanding the resignation of Prime Minister Andrej Babis.
Organizers say that nearly 60,000 people showed up while police estimate around 35,000.
A moment of silence was given to the victims of Tuesday's mass shooting in Ostrava, which claimed six lives.
Protestors remained peaceful as organizers urged a peaceful demonstration without skirmishes with police or counter-protesters.
The protest was originally intended to begin at the beginning of next year, but was shifted to an earlier date because of a European Commission audit published by local media that incriminated the prime minister for the violation of European Union regulations and the local conflict of interest laws, according to the organizer, the Million Moments for Democracy.
The prime minister is also facing prosecution by Czech authorities for another scandal involving alleged tax fraud and evasion, dubbed the "Stork's nest" case.
The prime minister has repeatedly said that there is no conflict of interest and that he has been unfairly targeted by political opponents. Babis also said that the Commission has no right to interpret Czech laws.