Nigerian businessman takes fight against malaria to Antarctica
Ned Nwoko, founder and president of Prince Ned Nwoko Foundation (PNNF), a humanitarian group, has taken the organization's 'Malaria Eradication In Africa Project' to Antarctica to address the scourge in Africa.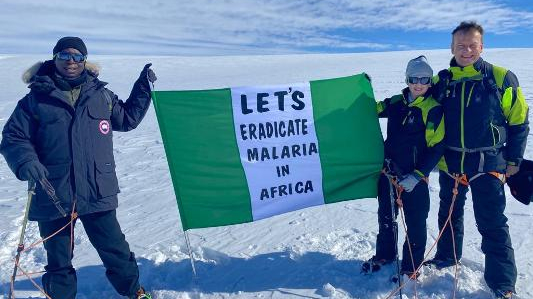 Nigerian businessman Ned Nwoko plants Nigeria flag at the South Pole. (Photo: Instagram)
Mr. Nosike Ogbuenyi, Strategic Communication Advisor of the PNNF, made the development known in a statement in Abuja on Thursday.
According to Ogbuenyi, the expedition to Antarctica, the earth's southernmost continent on the geographic South Pole, is to interact with leading researchers working on more effective drugs for the control of the deadly disease.
A report in ACS' Journal of Natural Products says a peptide isolated from an Antarctic sponge shows promise as a lead for new therapies in malaria treatment.
The team screened a collection of natural products extracted from a Southern Ocean sponge known as Inflatella coelosphaeroides. One compound, which they dubbed friomaramide, blocked infection and development of the malaria parasite Plasmodium falciparum in liver cells in a culture dish as effectively as primaquine, one of the few existing liver-stage treatments. Friomaramide is also nontoxic to the liver cells themselves. The researchers determined that the compound is a linear peptide with a distinctive structure, which they say makes it a promising framework for producing new leads for malaria treatment.
"The historic Antarctica expedition is for the symbolic launch of his eradication in Africa project and to draw global attention to the monumental health challenge as well as finding a permanent solution.
"The fact that it is often forgotten by many is that malaria is the biggest killer disease in Africa, and it irks the mind of Prince Ned Nwoko. To him, the journey towards a malaria-free Nigeria and Africa is not just worthwhile, but realistic."
Ogubuenyi added that the Ned Nwoko Foundation will work with national and multilateral organizations to realize the goal of ridding Africa of mosquito and malaria.
The Foundation also plans to spend $75,000 to establish academic research grants that will hopefully, develop a malaria vaccine.
Nwoko says the grants shall be available for scientific scholars in Africa, with a proper selection process and body of judges for the most qualified students and researchers to access.
"Malaria is seen as an African problem and it should, therefore, be handled by Africans, but our leaders have not shown the will and determination in this regard.
"Presently, only six countries out of 54 that make up the African continent are recognized by the World Health Organisation as malaria-free while the remaining 47 are endemic countries," he said.