US and Taliban prepare for a seven-day ceasefire
People's Daily app
1581714330000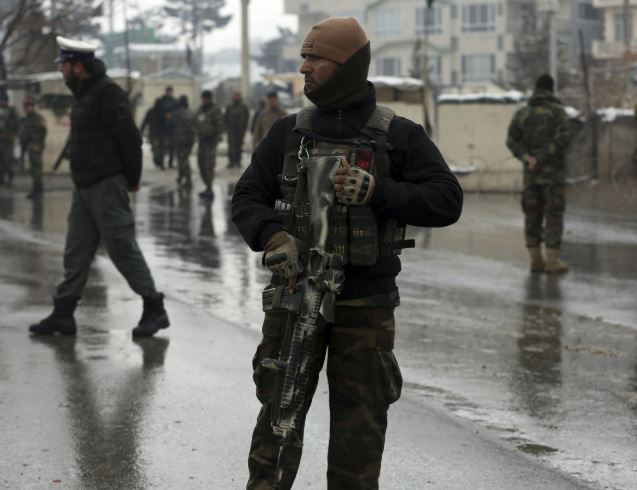 (Photo: AP)
Washington (People's Daily) – According to a report by the New York Times Friday, the US and Taliban have agreed to reduce violence, in the first step towards a ceasefire.
American negotiators had insisted on a decline in hostilities, though not a complete ceasefire, before signing an agreement with the Taliban.

A senior US official said on Friday the US and Taliban have agreed to a significant reduction in violence for seven days in Afghanistan. And this might be the first step in a plan to withdraw 12,000 American troops from Afghanistan and possibly end the long war there. This short ceasefire could reduce the hostilities.

US Secretary of State Mike Pompeo met with Ashraf Ghani, the president of Afghanistan, Friday in Munich, Germany.

However, the official said the seven-day period had not begun and did not specify when it would start.

According to the AP, this truce agreement will take effect "very soon" possibly within 10 days. There were indications a formal announcement could come as early as the weekend.

The official said the Taliban had committed to a halt in roadside and suicide bombings, as well as rocket attacks. Should the Taliban comply, the "reduction in violence" agreement would be followed by the signing of an agreement that would initiate peace negotiations that include all Afghan sides.

A Taliban official familiar with the deal said that the second agreement would be signed on Feb. 29 and that the inter-Afghan dialogue would begin on March 10.

The official said Germany and Norway have offered to host the talks but there has been no decision on the venue. The Taliban official added that the withdrawal of foreign troops would start gradually and would be phased in over 18 months.

But The Guardian reported on Friday a vehicle carrying civilians was targeted in an airstrike in the eastern province of Nangarhar, according to residents, who added that among the eight killed was a child.

Taliban insurgents have a strong presence in the region.

It is worth noting that US dropped a record number of bombs on Afghanistan last year. The actions by both sides have become increasingly bloody, and attacks against civilians have also increased.