China backs peaceful settlement of Venezuela issue, opposes external interference
China is willing to enhance communication and coordination with Venezuela for the development of the comprehensive and strategic partnership in a concrete and far-reaching manner, Vice President Wang Qishan said Thursday when meeting with Venezuelan Foreign Minister Jorge Arreaza in Beijing.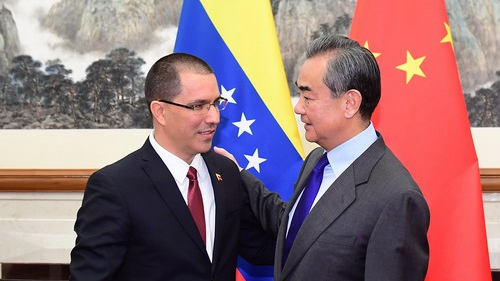 Chinese State Councilor and Foreign Minister Wang Yi (R) talks with Venezuelan Foreign Minister Jorge Arreaza in Beijing, China, January 16, 2020. (Photo: Chinese Foreign Ministry)
Wang said that under the guidance of the two heads of state in recent years, China and Venezuela had maintained close and friendly relations and achieved pragmatic and efficient cooperation in various fields.
He said China has always opposed external forces' interference with any country's internal affairs.
On the same day, Chinese State Councilor and Foreign Minister Wang Yi also met Arreaza. He reiterated China's support for the peaceful settlement of the current problems in Venezuela, and vowed to continue backing the just cause of the Venezuelan government and the Venezuelan people in safeguarding their national sovereignty and independence.
Noting that Arreaza is the first foreign minister to visit China in 2020, Wang said the trip shows the close ties and friendship between the two countries.
The past year was a challenging year for Venezuela as well as the whole world due to the rise of unilateralism, Wang said, stressing that maximum pressure policy featuring sanctions will never help resolve the Venezuelan issue.
"China will always stand for peaceful settlements of problems through dialogue and consultations. We believe that the people of Venezuela and its government are capable of addressing the problems on their own," he added.
Wang also reiterated that China supports Venezuela in safeguarding its national sovereignty and independence, national dignity, social stability and economic development.
The Chinese foreign minister pledged that China will continue to play a constructive role in advancing the inclusive political settlement for the issues in Venezuela.
Arreaza positively evaluated the bilateral relations and appreciated China's support and assistance. He said that Venezuela will continue to firmly support China on issues concerning its core interests.
Venezuela highly values its relations with China, said Arreaza, adding that the country will stay committed to strengthening bilateral cooperation and communication with China, opposing power politics and working towards accelerating China-Venezuela comprehensive strategic partnership to a new level.