Singapore to gradually ease coronavirus curbs as spread slows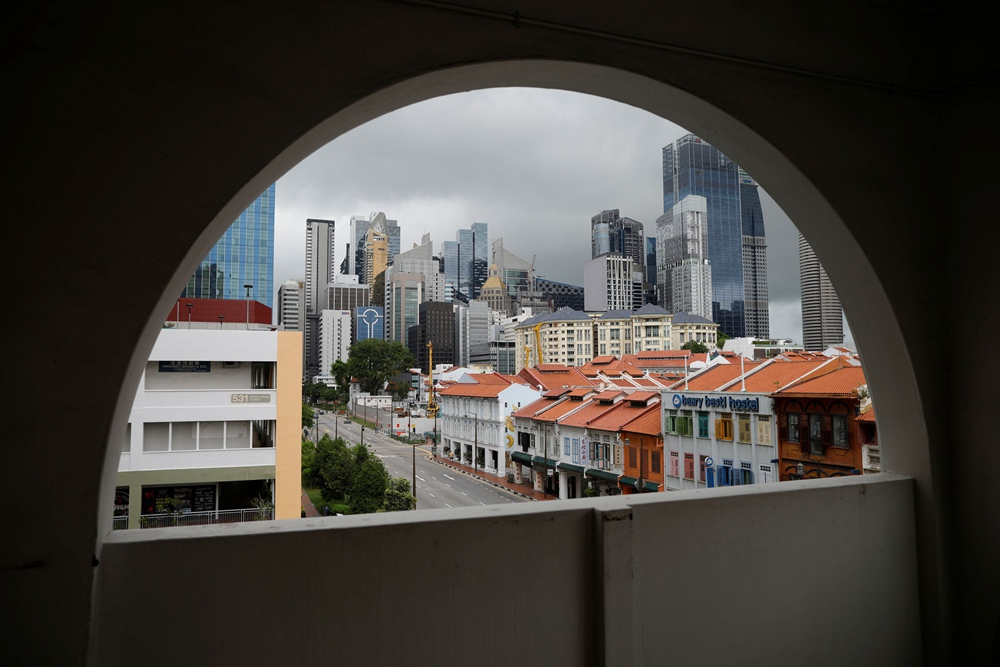 A view of an empty street during the COVID-19 outbreak in Singapore, April 27, 2020. (Photo: CGTN)
Singapore will start easing some curbs put in place to contain the spread of the coronavirus over the next few weeks, authorities said on Saturday, as the city-state takes the first tentative steps towards reopening its economy.

Selected activities such as home-based businesses, laundry services and barbers will be allowed to operate from May 12. Some students will be allowed to go back to schools in small groups from May 19.

Traditional Chinese Medicine needle acupuncture will be allowed from May 5, if assessed to be essential for pain management.

Also from May 5, residents living in strata-titled residential buildings such as condominiums may exercise within the common areas of these private residential developments, such as footpaths. But they must continue to follow safe distancing measures, authorities said.

All sports and recreational facilities within these private residential developments such as playgrounds, pools, gyms, barbecue pits, and club houses will remain closed.

In the meantime, some work premises will be allowed to gradually reopen, taking into account their importance to the economy and supply chains and their ability to minimize risks of transmission.

Singapore is facing the deepest recession in its 55-year history, compounded by restrictions called "circuit breakers" due to last until June 1, which include the closure of most workplaces and shops.

"We are preparing for the safe and gradual resumption of economic and community activities after the end of the circuit breaker period on 1 June 2020," the Ministry of Health said in a statement.
New cases drop
Singapore has among the highest number of infections in Asia, mainly due to outbreaks in cramped migrant workers' dormitories. It has managed to curb the spread of the disease among locals outside the dormitories.

It reported 932 new coronavirus cases on Friday, taking its total infections to 17,101 and has suffered 16 virus-related deaths.

The average daily number of new cases outside the dormitories has dropped by more than half to 12 in the past week, from 25 in the week before.

Authorities said SafeEntry, a digital check-in system to log details of visitors and employees, will be deployed extensively across the country to help with contact tracing.
'Not out of woods yet'
The Singaporean government said the measures could still be adjusted depending on the situation, and that people should continue to stay at home and not meet in groups.

"Even as we ease and adjust some of these measures, the bottom line is this – this is not the time to slacken and let our guard down," Singapore's National Development Minister Lawrence Wong, who co-heads the country's virus-fighting taskforce, told a virtual media briefing.

Health Minister Gan Kim Yong cautioned that "we are not out of the woods yet."

"New clusters may form if we let our guards down. We must press on with our efforts so that we continue to keep the numbers low," Gan said.

The rest of the circuit breaker measures continue to be crucial, and will remain in force till June 1, he added.

The government will be able to further roll back some of the circuit breaker measures if the situation is "clearly under control" till June 1, he said at the briefing.
Prime Minister Lee Hsien Loong said on Thursday that Singapore's economy will open up "step by step" when the number of COVID-19 cases in the community falls.

"Significant structural changes to our economy are likely," Lee said in his May Day message. "Some industries will be disrupted permanently. Companies will have to change their business models to survive. Some jobs will simply disappear. Workers in these industries will have to reskill themselves, to take up jobs in new sectors."

But he added that there will also be new opportunities and new jobs.