DPRK warns US against new military drills with South Korea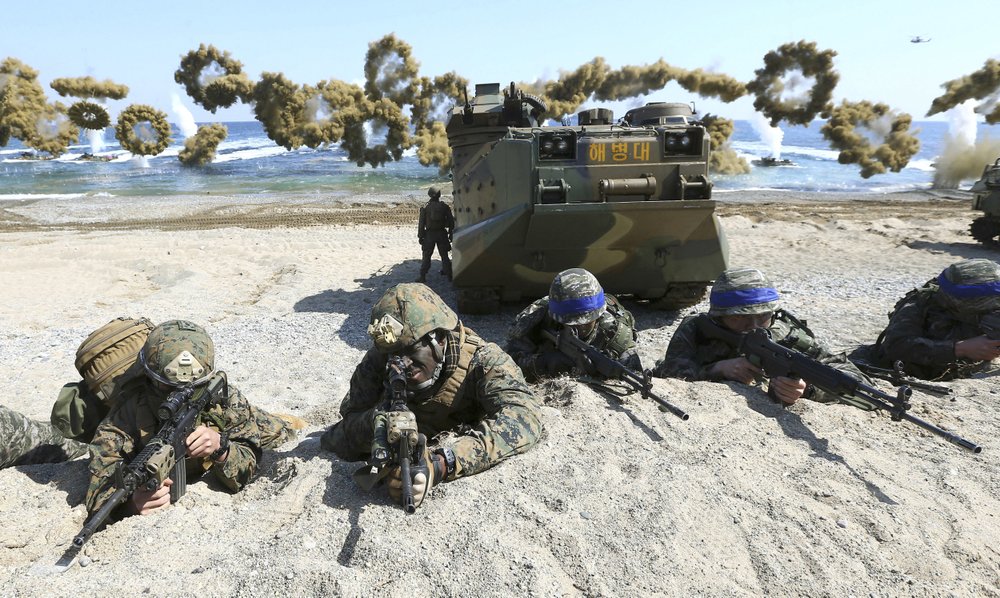 Marines of the US, left, and South Korea wearing blue headbands on their helmets, take positions after landing on a beach during the joint military combined amphibious exercise, called Ssangyong, part of the Key Resolve and Foal Eagle military exercises, in Pohang, South Korea. The Pentagon on June 18, 2018, formally suspended a major military exercise planned for August with South Korea, a much-anticipated move stemming from President Donald Trump's nuclear summit with North Korean leader Kim Jong Un. (Photo: AP)
PYONGYANG (Xinhua) -- The Democratic People's Republic of Korea (DPRK) gave a stern warning on Wednesday night against a planned joint military drill to be held by the United States and South Korea.
In a statement carried by the official Korean Central News Agency, an unnamed spokesman for the State Affairs Commission said the DPRK defined the joint military drill as the main factor for ratcheting up tensions on the Korean Peninsula.
"Despite our repeated warnings, the U.S. and the South Korean side decided to push ahead with the military drill," he said.
He also said the latest joint military exercises "constitute an undisguised breach of the DPRK-U.S. joint statement adopted on June 12 of last year on the basis of mutual trust and an open denial of the Singapore agreement."
Seoul and Washington said last week that they would skip their annual joint air exercise, known as Vigilant Ace, and instead hold a scaled-back drill.
The DPRK spokesman said that the United States and South Korea have staged several military drills this year alone, and such acts have already put DPRK-U.S. relations on the verge of a breakdown.
The first negotiations in eight months between the DPRK and the United States on the denuclearization on the Korean Peninsula broke down in Stockholm in early October. The DPRK has set the end of the year as a deadline for Washington to offer a deal which is realistic and acceptable by Pyongyang.
The DPRK has issued several warnings in the past two months, saying it would be a mistake for the United States to ignore the year-end deadline and the channel of the dialogue between the two countries is narrowing.